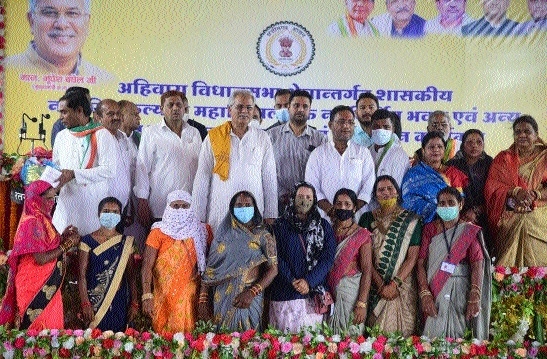 Chief Minister Bhupesh Baghel and other ministers during the
dedication of Government Nagrik Kalyan College in Durg.
Staff Reporter :
Raipur,
Chief Minister Bhupesh Baghel on Wednesday said that every effort is being made by State Government to provide youths with better opportunities in higher education. He said that the best infrastructure of higher education is being prepared in State. Wherever there is a need, new colleges have been set up and facilities have also been improved, said Chief Minister Bhupesh Baghel. The Government has also opened the doors of employment for the youth in various Government departments. Opportunities for additional income have been provided in rural areas through Godhan Nyay Yojana, Suraji Gram Yojana, Rajiv Gandhi Kisan Nyay Yojana etc.
Chief Minister stated this on the occasion of the dedication of Government Nagrik Kalyan Mahavidyalaya at Banbarad village of Ahiwara area in Durg district. The new building for this college started from the year 1985 has been prepared at a cost of Rs 4.83 crore. The Chief Minister also dedicated the Circuit House constructed at a cost of Rs 1.30 crore on the occasion. Higher Education Minister Umesh Patel said on this occasion that work is being done at fast pace by the Government for quality higher education in State.