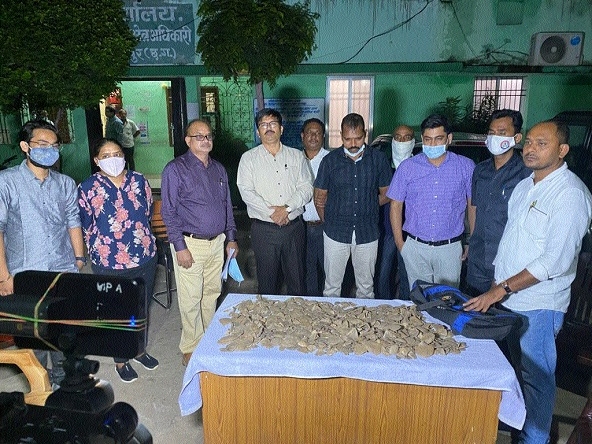 WCCB and Chhattisgarh Forest personnel with the seized pangolin scales.
Staff Reporter :
A combined team of Wildlife Crime Control Bureau (WCCB) and Chhattisgarh Forest Department nabbed a Sub-Inspector of CISF and Security In-charge of Raipur Airport and seized scales of pangolin in Raipur from him, on Wednesday. The accused has been identified as Jitendra Koche, son of Naresh Koche, a resident of Devnadi village who is posted as Sub Inspector, Central Industrial Security Force (CISF) and currently posted as Security In-charge of Raipur Airport. According to WCCB Central Region, Jabalpur, acting on tip-off, a combined team of WCCB Jabalpur and Chhattisgarh Forest Department was constituted under the supervision of PCCF, Chhattisgarh, Rakesh Chaturvedi, WCCB Regional Deputy Director, Abhijit Roy and CCF, J R Nayak.
The team started a search and trapped a suspected man riding a motorcycle. Forest personnel checked the bagpack of the suspect and seized 3.50 kilograms pangolin scales. The accused was taken to Pandri Forest Office in Raipur. He identified himself as Jitendra Koche, CISF Sub Inspector and currently posted as Security In-charge at the Raipur Airport. He informed that he was trying to find a buyer for the pangolin scales. Chhattisgarh Forest Department has registered a case against the accused under Wildlife (Protection) Act 1972 while further investigations are underway to identify the source from where the scales pangolin were procured.