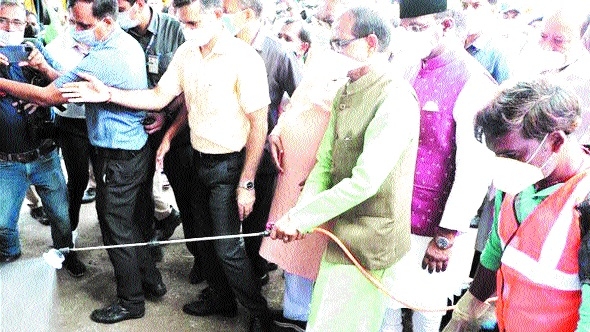 Chief Minister Shivraj Singh Chouhan spraying chemical with
fogging machine in Nehru Nagar in Bhopal on Tuesday.
Staff Reporter :
Chief Minister Shivraj Singh Chouhan has said that he has come to make an appeal, not as a Chief Minister but as a member of family, to keep vigil against dengue and adopt preventive measures. He was speaking during launch of State-wide mega campaign against dengue from Nehru Nagar in Bhopal on Wednesday. Insisting that one should get cent percent vaccinated against corona pandemic, he also urged everyone to regularly follow precautions against corona. He stated that State Government and its agencies are constantly active.
"We will defeat dengue with people's co-operation just like we controlled corona in the State. Dengue will be defeated, Madhya Pradesh will win," he opined. He asserted that campaign of 'Dengue se Jung Janta Ke Sung' would be launched throughout the state. He reached Palakmati campus and flagged off the 'Dengue Jagrukta Rath'. More importantly, he sprayed medicines for dengue control in the campus and also operated the fogging machine. He gave information about the measures to prevent dengue. He also released Gambusia fish, which destroy the larvae of dengue-, in the fountain pond of Nehru Nagar square. "Now we are in a position to say that corona is under control in the State. Today, only 8 positive cases have surfaced in the entire State. With the grace of God and the co-operation of the people of the state, we will be able to stop the third wave," he opined.
He also said that dengue has increased in state. Diseases like dengue and malaria can be avoided by being vigilant and cautious. Dengue is caused by mosquito. Mosquito larvae breed in places where there is stagnant water. So we have to be careful about water logging. Pamphlets were also distributed to bring awareness against dengue disease. Medical Education Minister Vishwas Sarang, ex Minister Umashankar Gupta were also present on this occasion.