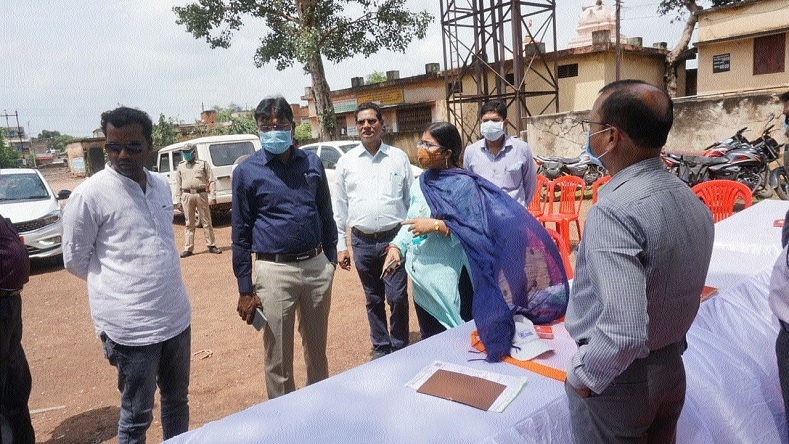 BMC Commissioner taking stock of preparations for Jandarsan in Bhilai.
Staff Reporter :
BHILAI,
As per the directives of the Durg Collector and Administrator of Bhilai Municipal Corporation Dr Sarveshwar Narendra Bhure, on Wednesday, the civic authority has been hosted Jandarsan (public grievances camp) in all the zones of Bhilai, which will be held till September 30. The timing of the camp has been set from 10 am to 2 pm. On the first day of the camp, the BMC Commissioner Prakash Sarve inspected the camp site regarding the arrangements and disposal of the applications received. He directed to maintain separate registers for each of the schemes. When the commissioner reached the camp site, former member of the mayor's council, G Raju told the problem of not getting the labor card of the application given in the previous camp.
On which the BMC Commissioner immediately spoke to the officials of the labor department from the camp site itself and asked to make available the list of labor cards to the corporation soon. Commissioner Sarve took information about the applications received from all the employees engaged in the camp and instructed the officers to resolve the resolvable applications immediately and also inform the applicant about redressal of their grievances. Following the instructions of the Commissioner, the problem of 17 quickly resolvable applications was resolved in the camp.
City resident can submit applications for getting solution of their grievances related with Prime Minister's housing scheme, social assistance pension, equipment for disabled people, ration card, labor department registration labor card, Chief Minister's health insurance scheme, tap water scheme, cement, road, drain, water supply, lighting, building construction, demarcation, enrollment, tap connection, encroachment related, cleaning related and other works.