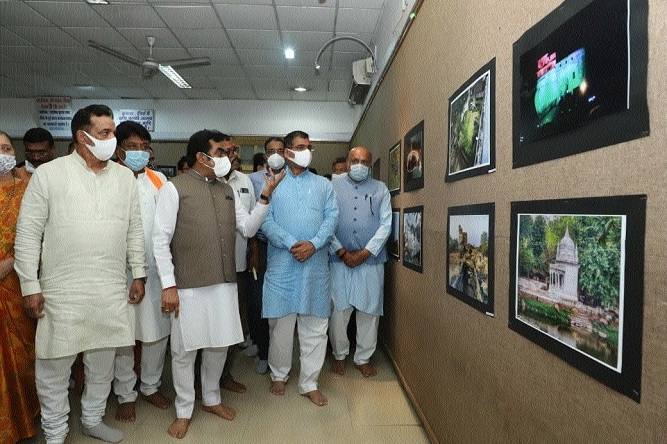 MP Rakesh Singh, accompanied by other public representatives during the inauguration of the painting and photo exhibition.
Staff Reporter :
Member of Parliament, Rakesh Singh inaugurated a painting and photo exhibition on 'Gondwara Heritages' on second day of Raja Shankarshah and Raghunath Shah Balidan Diwas programme at Rani Durgawati Art Gallery, on Wednesday. It may be noted that to mark the martyrdom day of great Gondwana warriors, this painting and photography competitions was organised. In the photography competition, photos of Manushri Mishra, Sachin Gontia and Shubham Pathak were selected as top three winners while paintings of Priyanka Choudhary, Manoj Vishwakarma and Shubham Raj Ahirwar won top three positions.
Besides this, paintings of Anjali Raut, Divya Choukse, Ayush Kushwaha, Akansha Pradhan and photos of Sugan Jat, Rajeshwar Rao, Mehul Yadav, Shubhamraj Ahirwar and Sagar were given consolation prizes. Top three positions will be given cash prize of Rs 21,000, Rs 11,000 and Rs 5,100 and certificates at Balidan Sthal, Malgodam square, on September 16 at 4 pm. On the occasion, MP Rakesh Singh said that it is a matter of pride that the city is observing martyrdom day of Raja Shankarshah and Kunwar Raghunath Shah and Union Home Minister, Amit Shah will be specially arriving to attend the programme on September 18. Judges of the competitions were Rajesh Dubey, Dr Aruna, Vinita Yadav, Nitin Popat, Dr Dilip Katiya and Umesh Thakur while Shailja Sullere, Ayushi Raut and Mukul Yadav contributed for organising the competitions.