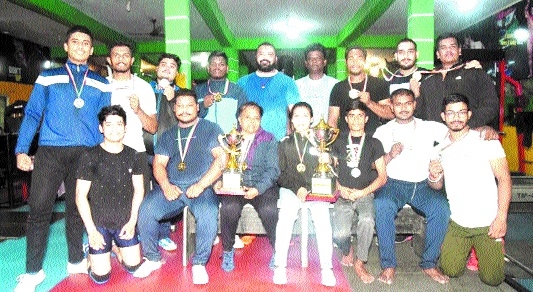 Medal winners of various categories with their coach.
Sports Reporter :
Players of Maruti Health Club proved their mettle in recently held District Power Lifting Competition. Upcoming player Sumit Singh clinched the title of Strong Man Junior while Nisha Dhurve lifted the title of Strong Woman. Similarly, Nisha Dhurve, Yashika Sharma and Chitra Naidu bagged single gold medal each while Riya Namdeo secured a silver medal. In men category, Sumit Singh, Anshul Sonkar, Mahendra Kendra, Vishal Pillai, Shashank Joshi, Monesh Chakrawarty and Rahul Maravi won single gold medal each in their respective categories. Saksham Choudhary, Adharv Mishra, Vipul Soni, Azad Patel, Sahil Naidu, Sanjay Nandonia and Tarun Gupta secured single medals.
All the players are being trained under the guidance of international power lifting player Anand Kumar Patel at Maruti Health Club and selected to participate in forthcoming State Power Lifting Championship to be organised in Ujjain. On the achievements of players, Mahakaushal Krida Parishad, Founder, Dr. Prashant Mishra, Rajesh Tiwari, Devendra Sareen, Sachin Yadav and others congratulated them and wished for success in future.