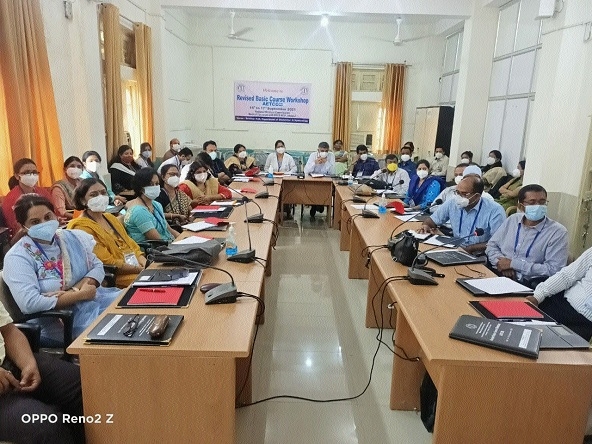 Medical teachers attending the first day of three-day workshop at NSCB Medical College.
Staff Reporter :
The three-day revised basic course workshop - 'AETCOM' was inaugurated at the Medical Education Unit, Netaji Subhash Chandra Bose Medical College and Hospital in presence of College Dean, Dr. PK Kasar on Wednesday. The workshop being organised by National Medical Commission would continue till September 17, 2021at the Department of Gynaecology and Obstetrics. Medical teachers from different departments are obtaining training in the ongoing programme. Dean, Dr Kasar while addressing the participants, informed that as per directives issued by National Medical Commission, the medical teachers have the responsibility to minutely understand and implement the new education system CBME. Medical Education Unit Co-ordinator, Dr Kavita N Singh said that the workshop aims to transform every medical student enrolled after 2019 in the MBBS course into a competent Indian medical graduate as per guidelines of National Medical Commission.
It will help to impart quality medical knowledge along with moral values among the students. Earlier also, two workshops were held at Netaji Subhash Chandra Bose Medical College. Resource faculties of Medical Education including Dr K K Gaur, Archana Singh, Dr Shashi Prabha Tomar, Dr Kavit Sachdeva, Dr Reeti Jain, Dr Monica Louzras, Dr Neelam Topo, Dr Ruchir Khare and others shared their precious knowledge on various topics. Dr K K Arora, Professor Pediatric from Indore was present as NMC Observer during the workshop and gave significant feedback during all the sessions of the workshop.