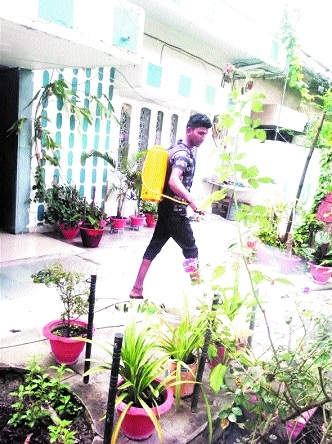 A BMC employee spraying insecticides to curb seasonal and mosquito-borne diseases in Bhopal on Thursday.
Staff Reporter :
Bhopal Municipal Corporation (BMC) on Thursday carried out inspections to detect dengue larvae at various houses of the State capital on Thursday. Along with this, BMC staff sprayed insecticides by fogging and manually operated machines across the city. BMC also penalised households not following appropriate behaviour to curb growth of dengue larva, despite repeated warnings and cautions issued by BMC. On Thursday, BMC slapped a fine on 35 households not exercising hygiene and proper safety measures to keep seasonal diseases at bay. The Corporation staff collected a total fine of Rs 3,900 by penalising and issued instructions to households to evacuate accumulated water from coolers, pots, tyres etc.
After receiving orders from BMC Commissioner KVS Chaudhary, the Corporation staff inspected Marghatiya Mandir, Model ground, Thakkar Baba Colony Shahjahanabad, LIG Colony Nariyalkheda, Harijan slum Teelajamalpura, Indira Nagar, Shanti Nagar, Israani Market, 12 Daftar, Prempura, Naya basera, Ambedkar Nagar, Nehru Nagar police line, Mahamai ka bag, Janta quarters, Sonia colony, Nawab Colony, Anna Nagar, Barkheda Pathani, Saket Nagar, Shubhalay Villa, Crystal Ideal city, Siddharth lake city, 1100 Quarters, Sonagiri, Bharat Nagar, Lakshmi Nagar, Palaasi village, Shankar nagar and Nabi bag localities for Dengue larva on Thursday. It may be mentioned that BMC staff also opened fogging and sprayed insecticides in the localities. Subsequently, staff imposed fines of Rs 400 in Zone-4, Rs 500 in Zone-11, Rs 500 in Zone-12, Rs 400 in Zone-14, Rs 1,100 in Zone-15 and Rs 1000 in Zone-17 after detecting dengue larva in the areas.