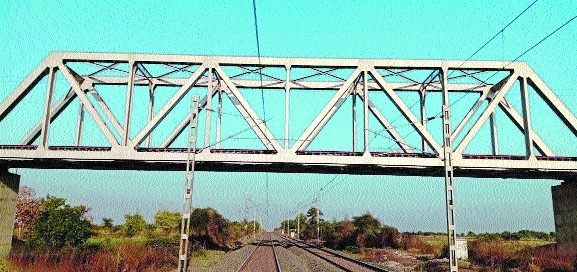 For resolving the stagnation at Gondia with opening of new route to Jabalpur, South East Central Railway (SECR) has proposed a project of Rail over Rail (RoR) that would help in simultaneous running of trains in East-West as well as South-North directions. After completion of the link till Jabalpur, Indian Railways had to redraw the maps of long distance travel for passenger traffic as rule states that trains should run through shortest route. With over 200 kms travel distance slashed off as round about trip to Itarsi is now cut off the trains are being diverted from Ballarshah station via Gondia enroute to Jabalpur. An alternate to Grand Trunk route of Indian Railways ensured that most of long distance trains emerging from Southern direction of country are no longer coming to Nagpur and then moving ahead to Itarsi and then to Jabalpur and ahead to their respective destination. Right now about half dozen Mail/Express trains going to Northern direction are taking the new path through Gondia.
Though the new route resulted in huge savings for Railways, on operations front it posed a new problem at Gondia station that was getting locked-up for a fairly long time, particularly on the East-West route. During the time, traffic on mainline -- Howrah-Mumbai -- was held-up the incoming trains from Chandafort-Nagbhir direction coming to Gondia crosses-over for moving onto Jabalpur direction. The time lost in transit on mainline was not very helpful given the congestion due to rapid increase in number of trains over the year and development freezes on the front of expansion of network. So the development of new route though heralded a good news after a perennially long time, the detention on mainline added to worries of planners. Now to accommodate new traffic and anticipated growth in future a third line is also being laid between Rajnandgaon and Kalumna stations in SECR's Nagpur Division.
That would further require uninterrupted running of trains on Howrah-Mumbai line without any need for stoppages on outer signal for allowing movement of criss-crossing traffic from Chandafort direction. "So after looking at the table and mapping trains movement, the RoR was thought off as the best option," said Vikas Kashyap, Sr. Divisional Commercial Manager, SECR, Nagpur Division. Kashyap added, "RoR would help the division to increase throughput on the new line, especially in terms of movement of freight trains." The project involved construction of a railway over the existing mainline. A similar project already exists at Chacher railway station in Mauda in Nagpur Division that has enabled simultaneous placing of loaded rake and moving of empty rake outside the yard.
At Gondia, the RoR would ensure that mainline remains undisturbed even as trains coming from Southern directions move on smoothly overhead. As the term suggests, RoR is a steel bridge over the existing tracks and meant to create a system of by-pass at crossing points. The project cost as of now is pegged at around Rs 134 crore and apart from RoR, allied structures like connecting brides would be constructed for smooth transit of trains through Gondia. The surface crossing that is currently occurring would also end and overcome issue of bottleneck on mainline. To handle the trains on RoR, a Chord Cabin would also come up on Eastern side of Gondia station where the new project is going to come up to control South to North movement.