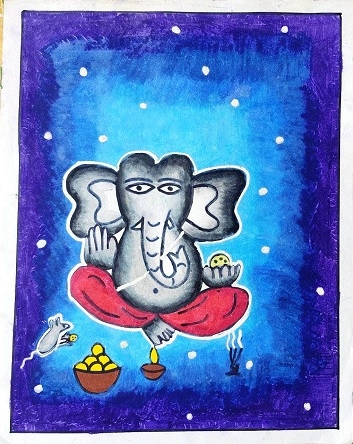 Painting made by Mainak.
Staff Reporter :
RAIPUR,
Mahakaushal Kala Parishad will host a solo art exhibition of child artist Mainak Bhattacharya. The exhibition will be inaugurated online on Friday by Chief guest Amarjeet Singh Dutta on Parishad's Facebook ID. The exhibition has been organised under the joint auspices of K P Sharma Mahakaushal Lalit Kala Mahavidyalaya, Paryavaran Green Society, Government Nagarjuna Post-Graduate Science College, Lions Club Raipur Friends and Mahakaushal Kala Parishad. The topic is Lord Ganesha. Different forms of Ganesha such as Ganesha performing Puja of Shiva, Ganesha fighting Bhagwan Parshuram, Ganesha, Maa Parvati and Bhagwan Shiva on Nandi, and expression of different acts of Ganesha's . The exhibition features 50 creations depicting relations between nature and Ganesha.
The art pieces are made of water colours, oil colours, pastel, acrylic, drawing pen and ink, charcoal, pencil, black & white, colour, collage. The exhibition will be open for public viewing on Mahakaushal Kala Parishad Raipur and Mahakaushal Art Gallery Raipur's Facebook IDs from December 19, 2021. It's available for people to like, to react or share with others, informed Dr Praveeh Sharma, Director Mahakaushal Kala Parishad.