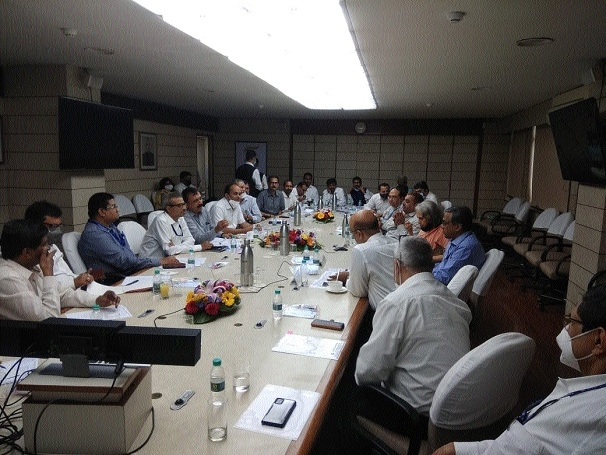 SAIL-SEFI meeting in progress at boardroom.
Staff Reporter :
BHILAI,
IMPLEMENTATION of pay revision with maximum benefits and various demands of executives have been discussed thoroughly in SAIL-SEFI meeting held in Delhi recently. The meeting was attended by Chairman-SAIL Soma Mondal, Director (Technical, Project and Raw-material) Harinand Rai, Director (Finance) Amit Sen with Chairman-Steel Executives Federation of India (SEFI) N K Banchhor and his team. Chairman-SEFI N K Banchhor informed that in the meeting there was consensus that 3rd pay revision of executives would be implemented with maximum benefits in accordance of DPE guidelines and measures for fulfillment of various demands of SAIL executives. After SEFI office-bearers raised demand of pay fixation of Junior Officers of 2008 and 2010 batches prior to 3rd pay revision in the meeting, it was assured that SAIL management has already constituted a committee for working out viable solution and the issue would be sorted out by September 30.
The management also assured for all due efforts to release advance payment against pending Performance Related Pay (PRP) of the fiscal year 2020-21 prior to 'Durga Puja'. Besides SAIL management also assured measures for restoring housing loan and vehicle loan facilities with MoU banks for facilitating workers with loan on low interest rate. The specially constituted committee is reviewing medical rules for better medical facilities at the hospitals and measures would be initiated on recommendation of the committee. In the meeting SEFI office-bearers also raised demands of enhancing CL limit, reintroducing HRA provision, notional promotion to Junior Officers (JOs) of 2018 batch, enhancing rate of TA, BA and terminal TA, amendments in new executive promotion policy, increasing reimbursement amount of mobile handset, hike in night allowance, hardship allowance for executives serving in mines and hot shop. Banchhor informed that in the meeting there was consensus over maximum demands and timely measures for meeting demands. SEFI office bearers expressed gratitude toward SAIL management for the measures initiated for welfare of steel fraternity and specifically for meeting one of major demands of transferring pension corpus into NPS accounts.