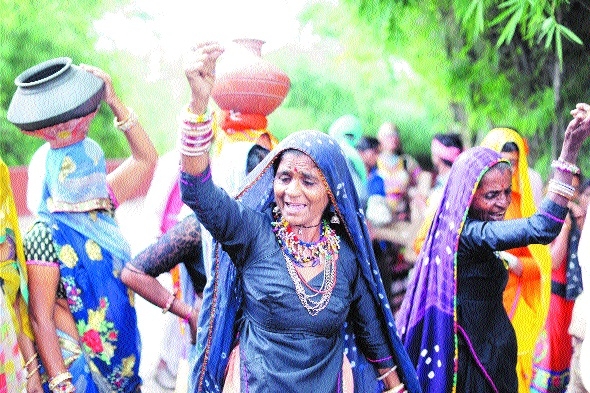 Women of Kalbelia community presenting their traditional dance at Tribal Museum on Wednesday
Staff Reporter :
Indians follow the beliefs, customs and tradition according to their religion and according to the rituals they sing songs, dance, eat delicious dishes and wear colorful clothes. Going by the aforesaid cultural practices, beliefs and traditions of the Kalbelia community are being preserved and showcased these days in Tribal Museum, Bhopal, where the Kalbelia community is presenting its traditions through a 10-day camp. On one hand, the artists are showcasing their handicrafts by making 'Gudri' (mattress made of clothes) whereas on the other hand the technique of making Surma is being presented.
On Wednesday, the community created a visual image of a donkey procession in the museum, which is a tradition, to highlight the relationship between animals and humans. This activity is conducted by the community at the time of moving their camp from one place to another. In this regard, Ashwani Sharma, a scholar from Haryana, Narnaul, told that the Kalbelia community has a profound relationship with their pets. For them their animals are not mere instruments of productive activity. Kalbelia's pet animal is the donkey and it is the focal point of their entire nomadic life. The community even gets their pet donkeys married.
They take the procession to that wedding. The feathers are tied on the donkey's head, which is called 'Maur'. Kalbelia women walk at the back of the procession, dancing and singing. In this marriage, people belonging to 12 disparate nomadic castes gather and this marriage takes place on the day they lift the camp.