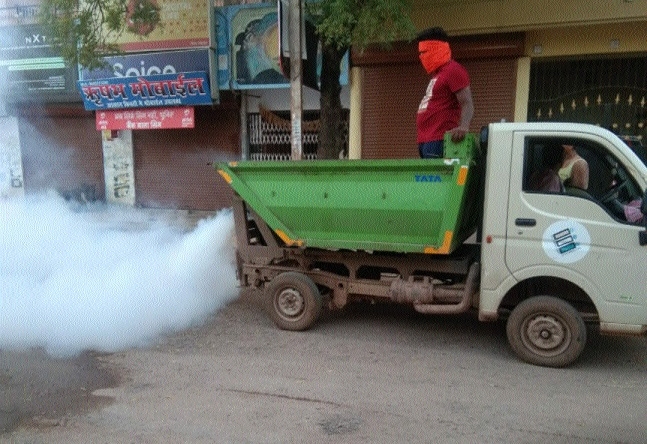 Staff Reporter :
BHILAI,
Under the Dengue Control Campaign, the Bhilai Municipal Corporation has intensified anti-larval operation in Township area, Kohka, Khursipar, Chowni, Ramnagar, Santoshi Para, and other wards of BMC especially slum pockets to eliminate dengue larvae and mosquito breeding zone. As per information, even after repeated warnings for not storing water in containers, tyres, water-coolers etc, the civic authority is now levying penalty on those violators, if dengue larvae or mosquito breeding zone found in houses, offices or shops. During the inspection, the BMC team reached Avanti Bai Chowk where dengue larvae were found in the abandoned truck and broken water-tank at a private construction site. On which a fine of Rs 5,000 was collected from the contractor and water was emptied using Temefos and cleaning was completed.
The BMC staffers have been spraying disinfectant sodium hypochlorite and larvicide using spraying vehicles and boom spray in dengue prone wards. The BMC authority has been launched a full planned task towards disinfection, sanitization and awareness measures, surveys by going door to door to curtail the possibility of dengue outbreak in the rainy season. Due to water logging in the rainy season, the outbreak of mosquitoes increases, because dengue mosquito breeds in clean water instead of dirty water, hence the cooler, the pot kept in the roof and the containers and tires kept outside etc are being examined. If dengue larvae are found in these places, the civic staff applying malathion to kill the larvae.
To prevent dengue, the team of the Health Department of the Corporation is reaching every house and checking the sources of larvae and spraying Temephos and Malaria Oil as per the requirement. Health Officer Dharmendra Mishra said that under Dengue Control Campaign, awareness campaign is being run around the houses of citizens to clean the water filled in containers and to be alert from seasonal diseases. In the drive, the staff of health department including Zone Health Officer Anil Mishra, Sanitation Inspector Anjani Singh, Jitendra Tiwari, Vinod Pandey, Manoj Tiwari, Arvind Dubey, Rajinikanth, Ajit Kumar were present.