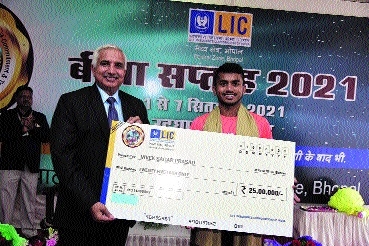 Olympian Vivek Sagar of the Indian Hockey team receiving the prize money of Rs 25 lakh from LIC Regional Manager Prakash Chand on Wednesday
Staff Reporter :
Central zone office of Life Insurance Corporation of India (LIC) observed its 65th anniversary on Wednesday. On the occasion, Regional Manager Prakash Chand hoisted LIC flag and congratulated fellow employees and LIC policy holders. LIC personnel paid tributes to LIC employees and common people who lost their life due to Covid-19. Prakash Chand stated that Covid-19 has majorly impacted people's lifestyles and people have developed awareness towards life insurance. "LIC has crossed a lot of phases successfully during the last 65 years. 60% policy holders are below 35 years of age. LIC central zone is the first one to achieve all the five standards on All India level during the year 2021-22. The central zone has employed multiple agents in a bid to provide employment, taking the total count of agents from 60 thousand to 1 lakh within 2 years", said Chand while congratulating the marketing channel on the occasion.
Tokyo Olympics 2020. Vivek Sagar, a resident of Hoshangabad, was honored with prize money of Rs 25 lakh. The zone has decided to award Rs 1 crore to Gold medal holders, Rs 50 lakh to silver medal holders while Rs 25 lakh to Bronze medal holders. Prakash Chand lauded the unprecedented spirit exhibited by Indian players at the Olympics. He stated that Sagar provided immense strength to the team while essaying the role of the mid-fielder, following which Indian Hockey team bagged a medal at the Olympics after a 41-year long wait. He mentioned that LIC has been playing a pivotal role in scaling progress in sports and many LIC players have showcased their talent at National and International levels.