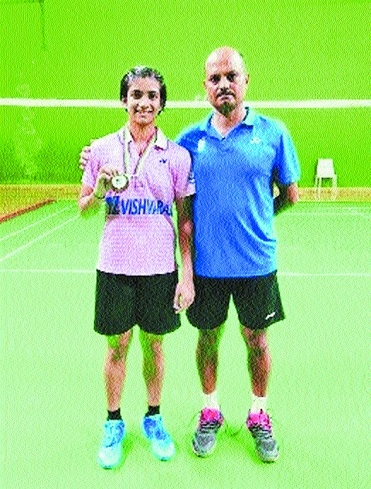 Malvika with coach Sanjay Mishra.
Tops in BAI women's singles trials
THERE were well over hundred matches in the trials for the upcoming Sudirman Cup and Thomas & Uber Cup organised by Badminton Association of India (BAI) at Gopichand Badminton Academy in Hyderabad. In the five-day intense battle for supremacy that ended on Wednesday, city's Malvika Bansod, among India's top shuttlers, was the only unbeaten player as she took the numero uno position in women's singles. As many as 80 players took part across the four categories of men's and women's singles along with men's and women's doubles, a robust format was used to judge performances of the players in the absence of any tournaments.
The new format also ensured both elite and domestic players are provided with adequate opportunities to prove their mettle. Trained by none other than chief junior national badminton Sanjay Mishra at his Police Parade Training Ground Badminton Academy in Raipur, Malvika was just superb in the entire tournament. In the first round league matches of Group B, Malvika defeated Ashmita Chaliha 21-11, 21-12 in 22m; Kanika Kanwal 21-9, 24-26, 21-14 in 1h 05m. In quarter-finals she steamrolled Telangana's Samiya Imad Farooqui 16-21 10-21 in 40m. In the semi-final league, Malvika beat Aditi Bhat 21-12, 21-18, got the better of Shruti Mundada 21-13, 21-7 and they toyed with Tasnim Mir 21-3, 21-4. Talking to 'The Hitavada', Mishra expressed his happiness with Malvika's show in the trials. "She had been brilliant the last five days. She was the only unbeaten singles players, men and women combined, during this period. Even the best player in the men's singles had to suffer a defeat. This speaks volume about Malvika's dominance," said Mishra who is coaching the talented southpaw since the last four years. On Malvika's fitness, next targets and the grey areas, Mishra said, "I am contiguously observing players of her age and can say with authority that she is among top 4-5 Indian players fitness-wise.
She has done extremely well in international circuit since making debut in senior category. Now, she must raise the bar. We are working hard on ensuring that she gets equal success in bigger tournaments like Challenger Series and Grand Prix events. "Apart from top skills, being dedicated and fully devoted to her game is her biggest positive. There is scope of improvement in building her stamina for tougher challenges at international level. She needs to work on her fitness and develop muscular strength to generate more power in her smashes," concluded Mishra, who had just landed at his hometown from Hyderabad. Based on the rankings, selectors will soon meet to pick the final squad for the Sudirman Cup (10 members) and Thomas & Uber Cup (20 members).