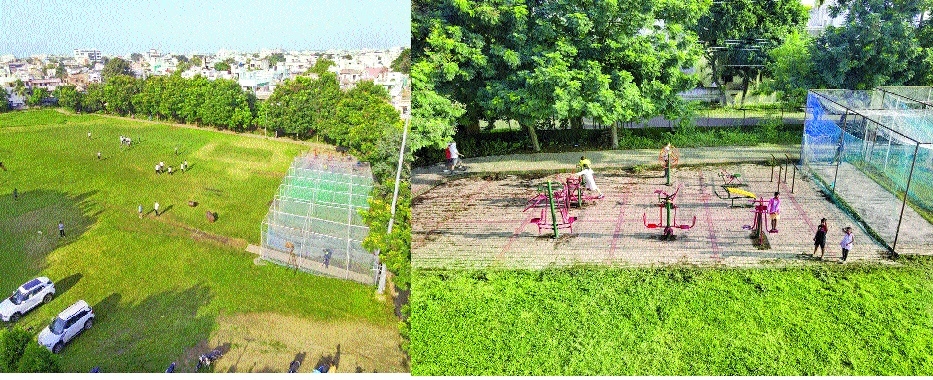 Sports Reporter :
Nelco Society Nagrik Samiti strongly objects to the resolution and modification of Act
RESIDENTS of Nelco Society Nagrik Samiti (NSNS) and nearby areas in Pratapnagar were enjoying a serene life while using a well-raised and well maintained play ground located in the society. The ground is enclosed by a compound wall with two gates, it houses a cricket academy, it has a jogging track, a green gym, electric poles and tree plantation on all sides and benches for senior citizens. All these facilities were provided by NMC and Nagpur Improvement Trust (NIT) on request of the residents of the area. NMC coughed up Rs 40 lakh for providing these facilities and moreover the inauguration of the project was done at the hands of the then Chief Minister of Maharashtra Devendra Fadnavis. So, the residents were in for a rude shock when an NMC Public Notice signed by Municipal Commissioner Radhakrishnan B informed that utility of the said open land/play ground has been changed from "primary school and library reservation" to "Public-Semipublic and parking zone".
The notice said that the new plan passed by NMC through a resolution on January, 20, 2021, was put up for inspection by public and also invited suggestions and objections within one month of publication of the notice (August 11, 2021). Sad and peeved at the surprising development, Nelco Society Nagrik Samiti (NSNS), through President Yoganand Kale and Secretary ML Pande, filed its objection strongly opposing NMC's passing of resolution and modification of the Act under Section 37 and wanted the existing status of play ground to remain as it is. Members of the society also met Fadnavis and handed him a memorandum regarding the issue. On one hand the civic authorities are planning to have new sports policy, they are beautifying play grounds with tree plantations and providing green gyms at smaller parks and gardens, it surely comes as a surprise that a neatly maintained play ground such as that at Nelco Society, has to be sacrificed in the name of modernisation.