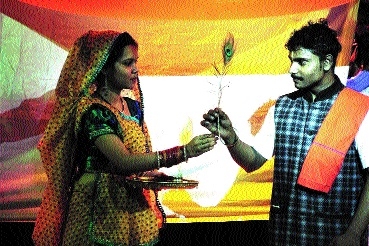 Artists staging a play 'Dwij' under the Gamak series, on Wednesday.
Staff Reporter :
Under online series Gamak, "Dwij" Katha play presented by Ustaad Alauddin Khan Sangeet avam Kala Academy. It was presented under the direction of theater artist Puneet V Trivedi. The uniqueness of this play is this that it was presented in Bundeli language. It was artists of Rang Sarokar Natya Prasar Samiti who essayed the role of different characters. In play, it was shown that Dwij means second birth. Ups and downs come in life of people. Some people face them bravely but some give up. In play it was shown that Narayan alias Bhak Narayan Maharaj was in deep trouble. Surrounded by deep problems, he wants to end the life.
However, his father teaches him the importance of patience, wiseness etc and tells that by imbibing these things, positive change can be brought in lives. By following the wise advice, Narayan brings positive change in his life and gradually happiness comes in his life. This play was presented in sarcastic and through folk songs. Character roles were played by Anjali Sahu, Aishwarya Dubey, Neeraj Goswami, Varun Sharma, Tarun Soni, Neeraj Mehra, Prakar and Kinjal.