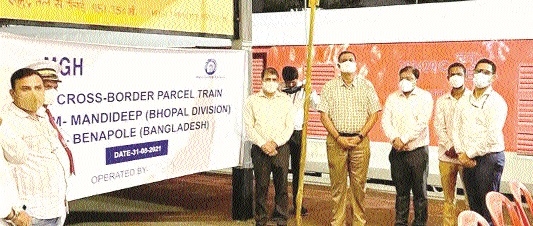 Preparatory arrangements being made for flagging of Cargo Export Express from Mandideep station.
Staff Reporter :
Officers of the Western Central Railway (WCR), under the guidance of General Manager Shailendra Kumar Singh, have managed to raise transportation of goods from parcel office. The concerned officials explained about various parcel schemes for customers. As a result, traders and businessmen associated with freight loading have shown interest in transporting goods from rail transport instead of road transport. In the series, Western Central Railway operated Cargo Export Express from Mandieep (Bhopal Industrial Hub) to Benapole (Bangladesh) for the first time. The rake of Cargo Export Express exported 550 tons of cotton yarn, fabrics and FMCG products. The export generated a revenue of more than Rs. 29 lakh. Trial run conducted in Navi Mumbai The Western Central Railway has started Freight Express under pilot project on a trial basis for transportation of goods.
The Freight Express covered the distance between Jawaharlal Nehru Port Trust, Navi Mumbai to Mundra Port, Gujarat within the calculated time. Due to the team work of loco pilots of Kota division, Freight Express reached its destination within 7 hours. The Freight Express is monitored by each Zonal Railways for punctuality. In August 2021, 38 Freight Express passed from Western Central Railway. The Freight Express reached their destination on time. Western Central Railway, General Manager Shailendra Kumar Singh and Divisional Railway Manger of Kota Division congratulated the loco pilots for their outstanding team work for ensuring punctuality of Freight Express. Extra coaches to be added to trains On account of an increase in waiting passengers, extra coaches are added to accommodate the passengers. In the series, 4 sleeper coaches will be added in on September 3 in train no. 02134 Jabalpur to Bandra Terminus Special Train and train no. 02198 Jabalpur to Coimbatore Special Train.