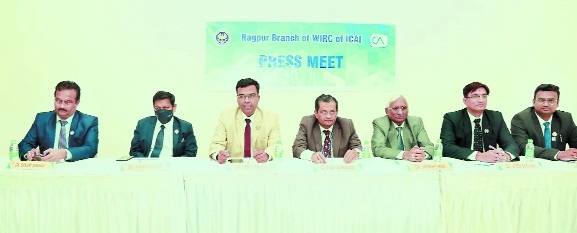 CA Sanjay M Agrawal, CA Manish Gadia, CA Saket Bagdia, CA Nihar Jambusaria, President, ICAI, CA Jaydeep Shah, CA Jiten Saglani and CA Akshay Gulhane at the press meet.
Business Bureau :
HIGHLIGHTING the major achievements of ICAI, CA Nihar Jambusaria, President of The Institute of Chartered Accountants of India (ICAI) said, "In order to enhance the quality of forensic audit, the ICAI Council has recently introduced 23 Forensic Auditing Standards and recommended them to CA members to enhance the quality of forensic audit." CA Manish Gadia, Chairman, WIRC, CA Jaydeep Shah, Past President, ICAI, CA Saket Bagdia, Chairman of Nagpur Branch, CA Sanjay M Agrawal, Secretary, CA Jiten Saglani, Vice-Chairman and CA Akshay Gulhane, Treasurer were also present. CA Jambusaria was speaking at a press conference at the sidelines of 'Tax Conclave' seminar organised by Western India Regional Council of ICAI and hosted by Nagpur Branch of WIRC jointly with CPE Chapters of Chandrapur, Gondia, Wardha and Yavatmal at Convention Hall, Metro Station-South Airport recently. He was present as the chief guest and inaugurated the seminar.
The President of ICAI further said that currently there are no forensic auditing standards or authority to measure and regulate the correctness of forensic audit. "Now with these new 23 Forensic Auditing Standards, the role of CAs has been widened to investigate and detect fraud with a proper set of tools and procedures to conduct quality audit," he said. Talking about another major achievement of ICAI, he said about 3.5 lakh students pursuing CA course were allowed by the Supreme Court to appear for their examinations in July. Conducting exams for these students was a huge exercise which involved more than 1,000 exam centres while following all COVID-19 related rules and regulations like sanitisation, physical distancing etc. This was done at a time when all the major examinations in the country were either cancelled or postponed. "From our efforts, we were able to convince the Supreme Court to give their permission to hold the exams and as a result more than 10,000 CAs have passed out in September. This shows the dedication and importance given to students pursuing the CA course by the ICAI," he pointed out. "CAs are important professionals and are required for the development of the nation.
Hence, CAs are partners in nation building," he said. He said that the ICAI has 64 chapters across the country, 45 chapters in foreign countries and 25 representative offices. ICAI has 3.5 lakh members and 7 lakh students pursuing the CA course in the country. When asked about the glitches and the delays in filing online GST returns, CA Jambusaria said that the ICAI is looking into the matter in a serious manner and giving day to day feedback on where the issues and problems are and also the solutions to some of the problems to the IT firm Infosys which is managing the GST portal. "Since, the GST regime is new and the volume of work is tremendous, it will take some more time for the portal to be problem-free," he said without giving a time frame. He said that during the pandemic the ICAI had adopted technology in a big way and used IT to their advantage.
"We kept our CA members updated on all fronts by organising webinars throughout the COVID-19 pandemic. A record number of webinars were conducted," he said. "Now students will also have to learn the new IT skill sets including online communication and attend online meetings as a part of the training and learning process. Earlier it was felt that technology would create mass unemployment and take over our jobs. But in reality technology has given more opportunities and created newer jobs," he said. Artificial Intelligence, Block Chain and Data Analytics are being used extensively for extracting data, he added.