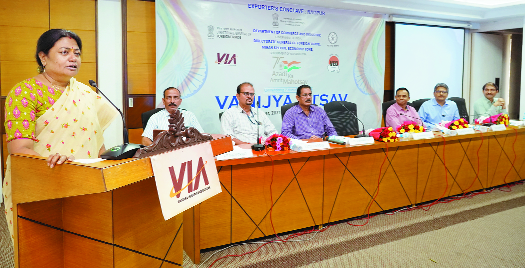 While giving a presentation on 'Nagpur District Export Action Plan' here at the Exporters' Conclave held on Friday, General Manager of District Industries Centre Nagpur - Gajendra Bharti, highlighted various challenges that are impacting export from the region. He also said that the non-availability of district level export data is also making it difficult for the authorities to support exporters of the region.
Nagpur District Collector R Vimala; Development Commissioner MIHAN SEZ Dr V Sarman; Chief Manager, ICD Nagpur Santosh Kumar Singh; Joint Director Industries A P Dharmadhikari; President of Vidarbha Industries Association Suresh Rathi; President VED Council - Shikumar Rao; and others were among the prominent persons who shared the dais.
The Department Of Commerce and Industry, Government of India; Directorate General of Foreign Trade; Mihan Special Economic Zone; and Directorate of Industries, Government of Maharashtra have jointly organised the
conclave at VIA Hall in Udyog Bhawan, Civil Lines.
Bharti further said that the distance between the region and nearest port is about 900 kms which makes Vidarbha manufacturer and exporters logistically uncompetitive.
Expressing her views, R Vimala said that the government is taking all possible steps to promote exports from the region. She said that the country had a rich legacy of exports. "We used to offer many commodities to the world before the British came here. However the exports from the country came down drastically in the following years.
But we can once again improve our exports," she said. Encouraging the exporters, R Vimala said they should face the challenges and overcome them.
Shivkumar Rao, in his presentation on 'Potential for exporters from Vidarbha', said a large number of MSMEs of the region may export their products. "As of now, only big manufacturing units of the region are exporting their products. In addition to this, many agricultural products are also in great demand in foreign countries," he said.
A panel discussion with exporters from Nagpur on Agro & Food, Engineering, Textiles, Steel was also held through web and video conferencing.
Apart from this, CA Varun Vijaywargi spoke on 'Export Promotion Schemes'; and P A Bamane spoke on schemes of APEDA. Another panel discussion saw participation of Joint Commissioner Mukul Patil; Chief Manager, MMLP, MIHAN CONCOR Santosh Kumar Singh; Rice Exporters – Anup Goyal from Shriram Foods, Industry Exporters - Suresh Rathi from Supriya Packaging and Ravleen Khurana from Nikita Pharma. Shiv Kumar Rao moderated the session.