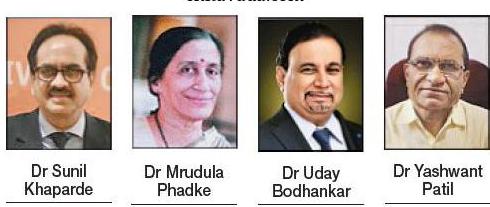 Welcoming the decision of Maharashtra Government to open the schools from October 4, the expert medical doctors, while talking to 'The Hitavada', have said, generally children are not proven to be super spreaders of COVID-19.
According to doctors, in fact there is an adverse consequences of school closure not only on children but also on teachers and parents too. School opening will end all the problems.
Dr Sunil D Khaparde, Public health specialist, Epidemologist, ex-Advisor, Directorate General of health services Ministry of health and family welfare, Government of India, said, "Because of closure of school among several disadvantages, one was children missed the food. Most children depend on the mid-day meal. With schools not functioning, these children literally faced starvation."
Explaining the consequences on children of school closure, Dr Mrudula Phadke, former Vice-Chancellor of Maharashtra University of Health Sciences (MUHS), said, "Increased exposure to violence and sexual exploitation. Increase in early marriages is leading to teenage pregnancies. Increase in hyperactivity is leading to aggression and Internet dependence is causing learning difficulties, social isolation and loss of interaction with school friends. Also there is rise in health-related issues: obesity, vision/eye strain, speech delay and school phobia. Some children are also facing mental health compromised (disturbed sleep, loneliness, depression).
"Parents are unprepared for distance and parhome schooling. They are also facing the challenges in creating, maintaining and improving distance learning.
"Financial strain to equip home with setup for distance learning, is an added problem being faced by parents."
Dr Uday Bodhankar, noted Paediatrician, elaborated the problems of teachers. They include unintended strain on healthcare workers and stress for teachers transition to distance learning not uniform for all children. Reaching kids with limited resource. Access to learning is variable from town to village and from high socio-economic class to BPL families.
According to Dr Bodhankar, the pressure from overconcerned parents attending distance learning classes has increased. At the same time there is a less frequent interactions with parents.
Dr Yashwant Patil, Executive President of Commonwealth Association for Health And Disability (COMHAD) and noted paediatrician, made it clear that a healthy child is at very low risk, ranging from 100 to 8,000 times lower than adult.
"COVID-19 in school-age children is less than half as risky as seasonal flu and 20 times less risky than deaths by unintentional injuries. Countries where schools have not been shut in the pandemic, have not reported deaths in children due to COVID-19. Risk of children bringing infection back to home is
very low and can further be minimized by vaccination of adult family members," added Rs Patil.
Talking about strategies when schools start, Dr Khaparde said, "Ensure vaccination of 100% school- teachers and staff before school opening. Capacity building of teachers/other staff to ensure CAB adherence by students in schools. Preparing schools by ensuring Infection Prevention and Control protocols. Creating awareness and reducing apprehensions among parents regarding safety of children in schools from COVID-19."
Dr Phadke advised, "Work with school leaders to help them understand the urgent need for school reopening. Vaccinate school staff on priority basis.
Begin the process with teachers coming to school to understand challenges that children may face once they return. Take action with safety measures in the school. Effectively communicate to parents about school opening."
Dr Khaparde stated, "By and large schools have not proven to be super spreaders. There is near global consensus that schools do not pose additional risk to children and the loss of education is far greater than risk of disease.
School opening is a process. Adherence to COVID appropriate behaviour (CAB) for children in schools should be emphasised. A healthy child is at very low risk, ranging from 100 to 8,000 times lower than adult. Children do not have sufficiently developed receptors in their lungs – the angiotensin conversion enzyme-II or ACE-II receptors -- which the virus needs to enter the body and make a person sick."