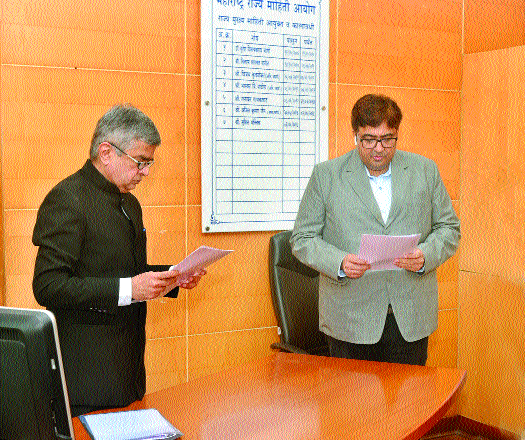 Rahul Bhalchandra Pande, former City Editor of 'The Hitavada', took oath of the office of State Information Commissioner with charge of Nagpur Bench, in a ceremony held in Mumbai on Friday.
Sumit Mullick, Chief Information Commissioner, Maharashtra, administered the oath of office to Pande in the swearing-in ceremony held at the office of State's Chief Information Commissioner. State Government has appointed Rahul Pande as State Information Commissioner vide notification dated September 16, 2021. He has been given charge of Nagpur Bench. Sunil Porwal was holding the additional charge of Nagpur Bench so far.
Pande has done MA in Political Science and LLB. Uddhav Thackeray, Chief Minister, approved the appointments of State Information Commissioners, recently following which the Governor issued the notification. Dr Suresh Chandra Gairola and Samir Sahai, both former Indian Forest Service officers, also were appointed as State Information Commissioners.