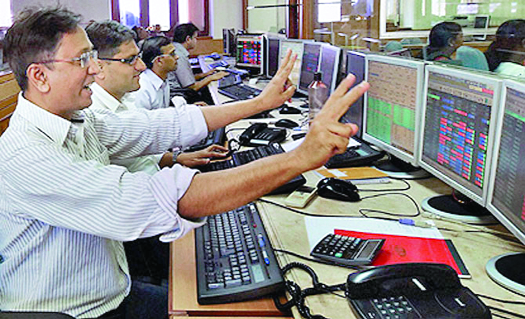 Even as the Sensex crossed the historic 60,000 mark on Friday and touched its all time high of 60,048.47, the city-based financial advisors observed that the upward trend will continue in the equity markets in the days to come. They said that the strong economic rebound and better-than-expected corporate earnings will further push the market upwards. The advisors also said that the investors may enter the stock markets at the prevailing levels.
CA Julfesh Shah, said that the market seems to be celebrating the Diwali festival well in advance as the BSE Sensex soared above historical 60,000 mark for the first time, while Nifty 50 is heading towards 18,000 mark.
"A slew of positive factors overshadowed negatives such as world-wide fears of debt default by China's real estate giant Evergrande," he said.
He added that crossing the 60k mark is a great milestone for the market. "We could see many more positive surprises from the market in the next one-two years, as we are entering into a positive upcycle of earnings trajectory. The overall market trajectory continues to be positive, and dips should be utilised to build long-term positions in quality companies for more sustainable returns," he said.
Shah further said, "A quality theme is back in focus, and we will continue to see the broader market doing well, as the visibility on broad-based earnings is still intact. A fully functional economy over the upcoming festival season and the sustenance of earnings momentum in
Q2 FY22 are the near-term triggers for the market."
Anuj Badjate, Managing Director of Badjate Stock and Shares Pvt Ltd., said that the Sensex crossing 60,000 mark is historic and clearly shows that the economy is growing on all fronts of trade and industry.
"Certainly, the rally is not showing any signs of cooling down at the moment. Currently market is running ahead of fundamentals due to investors enthusiasm. There are people who are saying that a bubble is being created and are staying away from the markets. This rally is different from past rallies therefore people should stay invested as there is still an opportunity to make 15 per cent to 20 per cent from the current levels. The next leg of the rally would be
led by banking, reality and engineering sectors, he said.
CA Kailash Jogani said, "We are witnessing a historic bull run and the market is firmly in the grip of a bull market. This is due to a combination of various factors like infusion of tremendous liquidity by FIIs, DIIs, MFs, HNIs and retail investors, firm revival of trade and industry and above normal direct and indirect tax collections. Now is the time to be cautious for investors as valuations have become expensive and not very cheap.
Jogani advised the investors to be selective and accumulate shares of companies which are leaders in their respective field or have strong fundamentals and growth opportunities. "There is a possibility of correction any time and these dips should be used as a buying opportunity," he felt.
As per CNBC and Bloomberg expert CA Nirav Panchmatia, it was on March 23, 2020, in the midst of Covid that Sensex had corrected by 38 per cent and fallen to 25,982. "What a journey it has been from a bottom of 25,982 to a high of 60,000 today. A whopping jump of 131 per cent in such a short span," he added.
"And that's not all, this has been the most broadband rally of the Sensex with practically most sectors climbing to their all time highs. There is no doubt we are in the midst of a bull run that has started in March 2020 and its here to stay at least for another few years. The last bull run was in 20003-08," he said.
Equity Diversified Mutual Funds especially asset allocator funds are an investors best friend today and so are SIPs. Avoid sectoral bets and non-quality bets and beware of stock tips, said Nirav Panchmatia of AUM Financials.
The next few months are expected to be volatile and every bull run also experiences 2-3 corrections of 10-15 per cent, Nirav Panchmatia added.