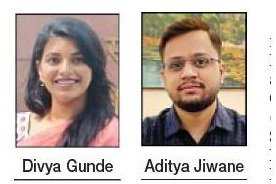 Divya Gunde, daughter of Gondia Collector Nayna Gunde, secures 338th rank
How perseverance, winning instinct make a difference is evident from the example of Divya Gunde, daughter of Nayna Gunde, District Collector of Gondia. Though she did not get success in earlier three attempts, Divya did not lose moral, she kept trying and finally cracked the Union Public Service Commission (UPSC) examination. The UPSC results were announced on Friday.
Aspirants from Vidarbha have excelled in this prestigious examination as seven from the region have cleared it.
Dr Pramod Lakhe, Director of Pre-IAS Training Centre at
Morris College, has been endeavoring to get maximum students from this centre to clear UPSC. He has succeeded in the efforts as the number of successful students who received coaching at the centre is increasing.
Seven successful candidates from Vidarbha are Nagpur's Dr Diksha Buware, who ranked 664, and Piyush S Madke (732nd); Chandrapur's Aditya Jiwane (339th), two from Yavatmal -- Snehal Dhokey (564th) and Darshan Dugad (138th), Buldhana's Amol Murkut (402nd) and Washim's Panav Thakre who secured 476th rank.
Divya Gunde has done her Std X and XII from Nashik and graduation in Political Science from Fergusson College, Pune. She did her preparation from Dnyan Prabodhini.
Under the leadership of Dr Lakhe, the centre is producing a good number of successful candidates.
Dr Lakhe has introduced several changes in the grooming which are benefitting the students at large. This year the centre was involved in conducting final interviews of around 55 candidates as Dr Lakhe himself had gone to Delhi. Of the 55 candidates, 23 have cleared the examination, all are from Maharashtra.
Walse-Patil endeavour helps develop hostel
Dilip Walse-Patil, Home Minister and the then Higher and Technical Education Minister, has played a key role in developing 100-room hostel in the premises of Morris College meant for the candidates having coaching for UPSC at pre-IAS coaching centre. After relinquishing the ministerial berth Walse-Patil was given the responsibility of Speaker of State Assembly. But he followed it up with the then District Collector Pravin Darade. The hostel has become the boon for the students.
Three from Chandrapur excel
Three aspirants from Chandrapur have cracked UPSC. A lad from Warora Aditya Chandrabhan Jiwane secured 399th rank in UPSC examination. He is an alumnus of Yashwantro Chavan College of Engineering, Nagpur.
Aditya a student of St Anne's Public School, Warora had obtained SSC exam in 2011 with 92 pc marks. Anshuman Yadav from Chandrapur got 242nd rank. Deovrat Meshram secured 713rd rank.
Anshuman Yadav, a Mechanical Engineer, took coaching classes from Delhi to crack the UPSC examination. Yadav is a resident of Jatpura gate and son of Yadav, an officer of Western Coalfield Limited (WCL). He cleared his Class 10th and 12th from Chhattisgarh and did his graduation in Mechanical Engineering. Yadav who cracked the UPSC in fourth attempt gave the message to youths who are appearing for the UPSC examination only to have patience to clear the exams. "If anyone is continuously working hard by taking inspiration from parents and other role models just like Sachin Tendulkar, he/she will definitely achieve the goal," said Yadav.
Father of Aditya, Chandrabhan Jiwane is a professor in Commerce at Anand Niketan College while the mother is a Zilla Parish Primary teacher. He cracked the exam in third attempt. "Sincerity and hard work fetched success and credit goes to the perennial inspiration of parents. One should focus on one's work and goal," added Aditya while talking to 'The Hitavada.'