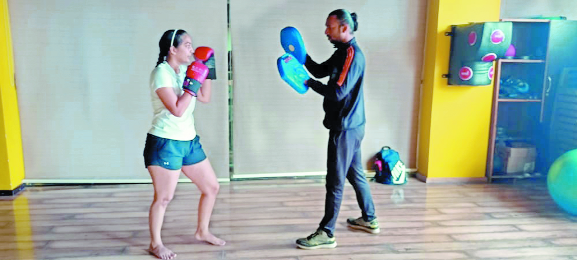 IT COULD be termed as a suicidal attempt to take a lesser known sport when one is doing decently well in the world recognised game like badminton. But then, risks are taken by those confident ones who have the willpower to excel with their determined efforts.
City's Srushti Barbate, 20, is one such sportsperson who is carving a niche for herself in wushu after quitting badminton a few years back.
Srushti was a decent shuttler from Nagpur and also played a few competitions at district level. But then the COVID pandemic, which has changed the template of sporting events all over the world, forced Srushti to think away from the racquet sport. The lockdown period due to coronavirus changed Srushti's mind and she shifted from shuttler to a 'martial art player'.
Srushti took to wushu around three months ago. And with determination and hard work won her first medal in the district championship in her first attempt itself.
Playing in Senior Under-60 kg weight category, Srushti clinched gold medal in the district competition and got selected for the State meet which begins at Wardha from Saturday.
The shuttler-turned-boxer is happy with her performance and is now eyeing a medal at the State Championship.
"I used to play badminton since I was in school. I played under three coaches including Ajay Dayal. I also made it to State Championships two times but failed to win any title," Srushti told 'The Hitavada'.
"I shifted to Aurangabad and there too, I continued with badminton, but was unable to break that barrier. Finally, I decided to change the sport." said Srushti.
It was not an easy for her to shift from badminton court to the boxing ring. But Srushti was firm in her decision and devoted all her energy learning the trade of tricks of wushu.
"I think one should always try a new sport all his/her life," she opined. "I got attracted towards wushu and kick boxing watching English movies I enjoyed during the lockdown. The fights and action scenes in the movies motivated me towards the game of martial arts. As I was returning to Nagpur after closure of colleges amid COVID, during a chat my mother informed me of some martial arts classes near my house. This excited me and I planned to visit the academy. Though I did not know anything of martial arts, still I joined the classes", she said.
There are different types of martial arts and one among them is wushu. Remembering her first experience in wushu, Srushti said, "I was nervous when my name was announced for the bout as I was a novice and only two months old in the sport. But, after I won a few bouts, I gained confidence. It was a pleasant surprise for me when I won my first gold in the event. I was on cloud nine when I got selected for State Championship. It was all possible because of the efforts of my coach and the trust he has shown in me," said the Hotel Management student.
"Now I will practice hard and will give my best to win medal for Nagpur in the upcoming State championship," Srushti concluded.
State wushu meet from today
Wardha Wushu Association (WWA), and All Maharashtra Wushu Association (AMWA) will be jointly organising State-level Wushu Championship from Saturday at Agnihotri Mahavidalaya, Bapuji Wadi, Ram Nagar, Wardha.
The championship will be inaugurated at by Kishor Tiwari, President, Vasantro Naik Farmers Mission, Mumbai at 5 pm.
MLA Ramdas Tadas, District Sports Officer Lakita Lekurwale will be the other guests.
The championship will be held in four categories—sub-junior, youth, junior and senior. Around 800 players from 32 districts of Maharashtra are taking part in the championship. AMWA has appointed 10 chief referees and 25 referees for the championship.
The championship will be conducted in two slots to avoid rush of players and their supporters strictly adhering to the COVID protocols as stated by the administration. In the first session, matches of youth and junior categories will be held while from September 30, bouts of sub-junior and senior categories will
be held.