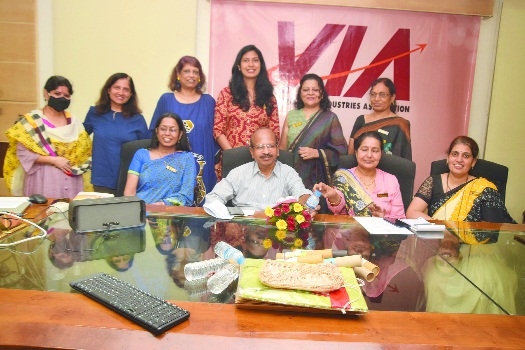 Business Bureau :
The Lady Entrepreneurs' Wing of Vidarbha Industries Association recently conducted a session on 'Entrepreneur's solution for environmental issues & making eco-friendly products' with the idea of providing business opportunities to women entrepreneurs of Vidarbha and exploring the business opportunities, keeping in mind the sustainable development goals. The keynote speaker was Prasantha Devulapalli, Founder and CEO of Coral Swans Oslo Norway, who is into the business of Temple Waste Management. The Indian born Norwegian citizen Devulapalli, shared that the tradition aspects of Hinduism culture from centuries of bowing flowers to temple which we think as they are organic and biodegradable but we are not aware that they are produced with the lot of pesticides and chemicals which is eventually polluting rivers and oceans.
This has become a cause of serious concern as globally every country is facing environmental threats. She is working in collaboration with the Norwegian Government on temple waste management. The world generates 2.01 billion tonnes of all kinds of solid waste annually. In India, Tamil Nadu produces about 38,000 per day flower waste apart from the fruits, vegetables, banana leaves etc. which form a part of temple offerings. Devulapalli said that the country is producing 13-15 different products from the waste which is in natural organic form. She highlighted that her company has acquired land in Visakhapatnam in Andhra Pradesh and proposes to commence manufacturing of various organic products from the temple waste with support and funding from the Norwegian Government. She expressed her keen desire to collaborate with the women entrepreneurs of India and take this concept further and thus generate gainful employment for many. Prasantha Devulapalli did her master's degree in Management BI Cand. Mag degree, (interfaculty) University of Tromso Norway.
Anil Chhawachchria from the company Da Ebony which deals into the sector of manufacturing sustainable organic biodegradable products, spoke about the importance of eliminating toxic waste and promoting biodegradable products. At the outset, Poonam Lala, Chairperson, VIA LEW, in her opening remarks expressed her deep concern related to the present environmental issues and how day by day it is getting polluted and impacting our lives directly and indirectly. She mentioned the importance of eco-friendly products for environment conservation. Shachi Mallick, Past Chairperson of VIA LEW and Yogita Deshmukh, Treasurer VIA LEW conducted the proceedings of the programme. Poonam Lala gave floral welcome to Anil Chhawchharia and a memento was presented to him by Past Chairperson Anita Rao. Rashmi Kulkarni, Secretary, VIA LEW proposed vote of thanks.