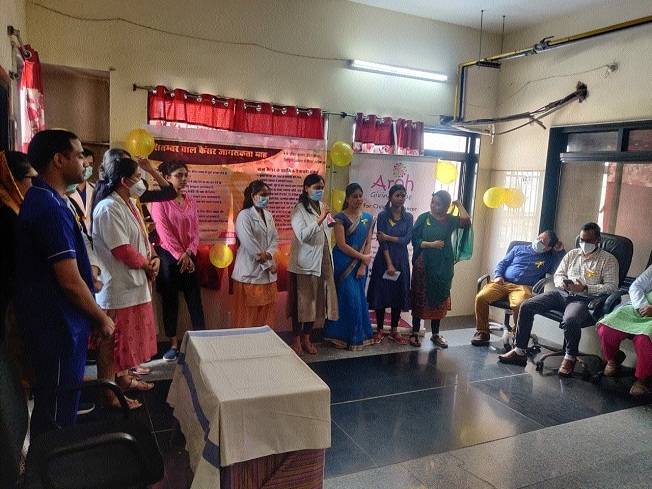 Junior doctors presenting programme during the event on
National Child Cancer Awareness month at Regional Cancer Institute of BRAMH.
Staff Reporter :
RAIPUR,
National Child Cancer Awareness Month was observed by Aroh organisation at Regional Cancer Institute of Dr B R Ambedkar Memorial Hospital (BRAMH) recently, to encourage the family members of cancer victims through drama and slogan. Programme was attended by the family members of young children suffering from cancer. Along with this, children getting treatment in Regional Cancer Institute were encouraged. Cancer will be defeated with proper treatment, diet and patient behavior- slogans gave the message of taking regular and complete treatment of cancer in time.
The message that cancer can be defeated by timely treatment was also given through play by junior doctors and staff. The parents of the children who came as audience were impressed by the presentation made by junior doctors to keep moral of children high. Regional Cancer Institute's Dr Manjula Beck and Dr Pradeep Chandrakar presented Golden ribbons to the children. It was informed that the golden ribbon is the symbol of cancer of children because their lives are important for all. At the end of the programme children cut cake, snacks were distributed. September month is called as Golden September because the Gold color symbolises that children are very precious.