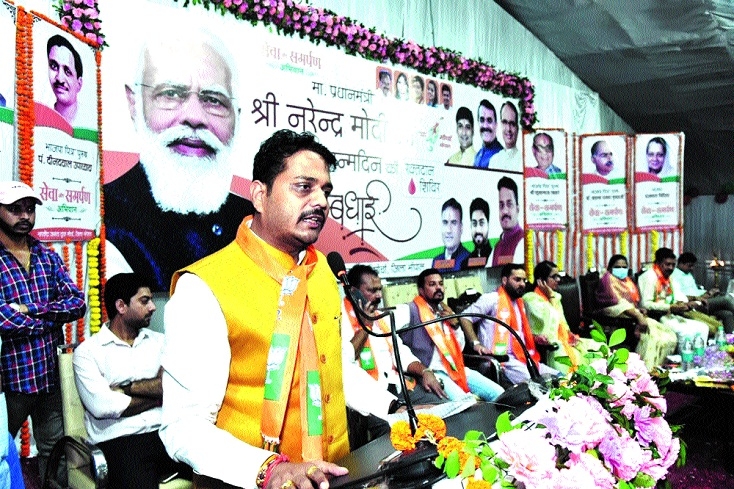 BJYM State President Vaibhav Pawar addressing a blood donation camp organised at Hindi Bhawan
in the State Capital on Monday.
Staff Reporter :
Bharatiya Janata Yuva Morcha (BJYM) organised blood donation camps in all 54 organisational districts of the State. It organised blood donation camp under the ongoing Sewa Aur Samarpan Abhiyan being run by BJP to mark the birthday of Prime Minister Narendra Modi. State President, BJYM, Vaibhav Pawar informed that across the State, Yuva Morcha workers donated 3919 unit blood. In Bhopal, Blood Donation camp was organised at Hindi Bhawan. The blood donation camp was inaugurated by BJYM National Vice President Neha Joshi, State General Secretary Kavita Patidar and BJYM State President Vaibhav Pawar. Kavita Patidar said that blood donation is a great and pious work as it save lives of others.
She said that Yuva Morcha works with dedication. Under the campaign, Yuva Morcha is carrying out various kind of activities. Neha Joshi said that under the Sewa aur Samarpan Abhiyan from September 17 till October 7, Yuva Morcha is organising various events including blood donation camps. Vaibhav Pawar further insisted on the need to spread awareness about blood donation so that no one should die due to blood scarcity. He said that activities like Blood donation camps are need of the hour. On this occasion, certificates were given to blood donors.