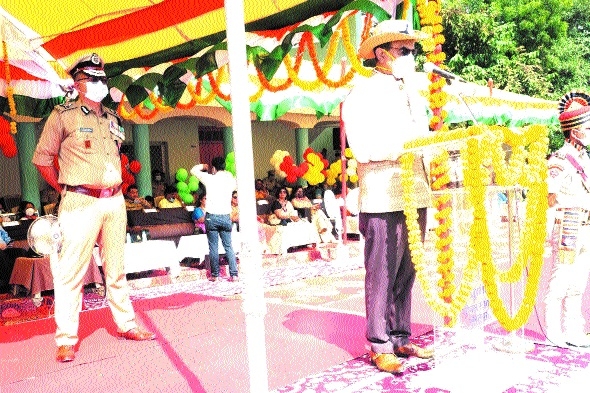 WCR General Manager Shailendra Singh addressing at the 37th Foundation Day event of RPF in Jabalpur on Monday.
Staff Reporter :
A grand parade and colourful programme was organised on the 37th Foundation Day of the Railway Protection Force (RPF) at Railway Stadium, on Monday. General Manager, West Central Railway (WCR), Shailendra Singh inspected the parade as the chief guest. Speaking on the occasion, Singh highlighted the remarkable works done by the RPF and called upon the officers and jawans of the force to continue to provide security to the railways as well as security of passengers in the same manner.
He on the occasion also emphasised on modernisation and upgradation of the RPF. Throwing light on the achievements of RPF and WCR in last one years, he wished they for better endeavors in future. Earlier the Inspector General-cum-Principal Chief Security Commissioner of Railway Protection Force welcomed the Chief Guest GM, WCR Shailendra Singh, President, WCR Women Welfare Organization Archana Singh and other guests. He on the occasion also extended gratitude all Heads of the Departments, senior officers, Judicial Officers, retired officers who attended the parade ceremony. Later, the IG informed about the good work done by the RPF and motivated the staff to adopt the best practices. During the programme, the Chief Guest Singh also distributed Director General's emblem and citation. During the cultural programme, RPF members presented a dog show, motorcycle show and Gedi dance. The General Manager also awarded the RPF for organising the grand parade.