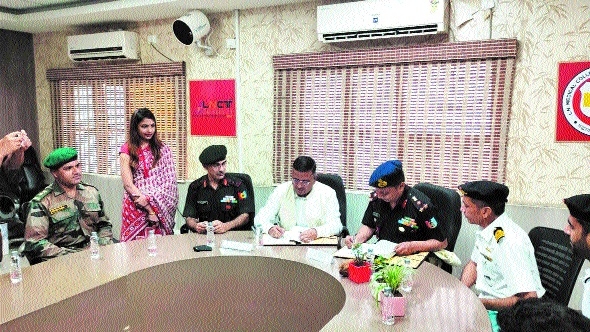 Vice Chancellor of LNCT University, Prof N K Thapak and NCC Brigadier Sanjay Ghosh signing the memrandum of understanding in Bhopal on Monday.
Staff Reporter :
Vice-Chancellor, Lakshmi Narain College of Technology (LNCT) University, Kolar Road, Bhopal, Professor NK Thapak signed a memrandum of understanding (MoU) with Brigadier Sanjay Ghosh of National Cadet Corps (NCC) Group Headquarters. On this occasion, Professor N K Thapak said that NCC has been included as a credit course in the undergraduate level courses of the university. Under this course, students of BA, BCom, BSc, BBA and BCA courses can avail the benefit of this course.
The inclusion of NCC in the National Education Policy (NEP) is aimed at connecting the young generation with education as well as serving the nation. Apart from this, the youth can draw inspiration by inculcating the understanding of NCC at the national level as well as the serve the nation by joining the Indian Army. During the occasion of signing MoU, University Chancellor Jaynarayan Chouksey, University Pro-Chancellor Dr. Anupam Chouksey and Executive Director Dharmendra Gupta extended heartfelt congratulations and called upon all the students to participate in NCC. Colonel SK Bijaraniya, Commander OP Sharma and Lieutenant Piyush Nema were also in attendance on the occasion.