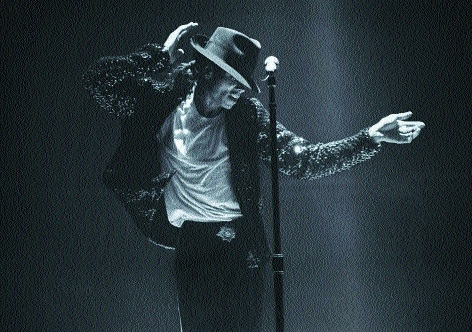 Michael Jackson
By Vijay Phanshikar :
"When one wishes to be touched by truth, and to be able to interpret that truth so that one may use what one is feeling and
experiencing, be it despair or joy, in a way that will add meaning to one's life and will
hopefully touch others as well.
This is art in its highest form. Those moments of enlightenment are what I continue to live for."
- Michael Jackson,
in his wonderfully worded autobiography
'Moonwalk',
(paper-back, Arrow Books),
in an epilogue-like statement.
THIS interpretation of art by one of art's greatest practitioners of all time, carries a tremendous sense and significance. There is little doubt that it has enhanced human comprehension of what art can be in its multiple facets. No matter his rather rebellious persona -- and his controversial indulgences -- Michael Jackson certainly comes across as an icon in arts of western music and dance. 'Moonwalk' certainly offers a wonderful insight into the man who rocked the music fans all over the world and became a legend not just of his lifetime but of all the times thereafter. That is one of those few books that can be read many times over -- for the simple fact of its simplicity of expression and openness. Though he made money by the tonne, Michael Jackson looked at his art -- of singing and dancing -- in the pop genre as an attempt to add meaning to his life and offer the same to others.
He might not have offered the exact definition of the truth he talks about, there is little doubt that he was all the time exploring it himself, in the process making all sorts of experiments not just with singing or dancing but also with song-writing. Again, in the pop genre, the songs may have had simple words, but Jackson kept making attempts to offer those expressions a meaning that must be sensed after jumping the confines of mere words. Through his music and dance, he urged his global audiences to come forward to explore meaning of his expression and thereby the truth -- which has such an ephemeral, such a surreal signature or boundary beyond specific shape and size or definition. Of course, to sense the truth in such an abstractism is a tough thing to achieve. But Michael Jackson appears engrossed in that exploration -- through his wild singing and wild swinging to wild audiences across the world. There may have been a lot of noise in his concerts, but it never had a cacophonous dissonance.
Never was his concert just a boisterous demonstration of youthfulness. Much to the contrary, it often was a serious exploration of the meaning of the truth art seeks -- though in a pop form. Michael Jackson sought free expression of his emotion and shared those with the world, in a fond hope that that would draw the artist and the connoisseur closer to the truth, to the enlightenment which he continued to live for. To those who were not charitable to Michael Jackson, his words may sound hollow -- or made up. But those who understood his emotive militancy realised his silent quest -- under a noisy garb, though. Listening to his music and watching his concerts -- long after his demise, one does sense Michael Jackson's effort (which the fans and connoisseurs did not allow to remain orphan).