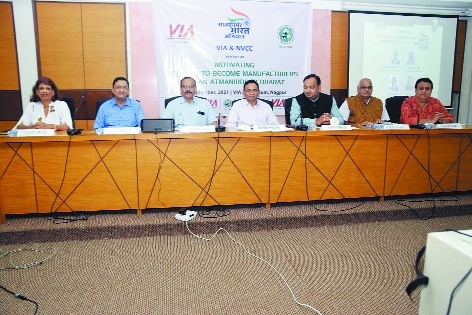 Business Bureau :
Vidarbha Industries Association (VIA) and Nag Vidarbha Chamber of Commerce (NVCC) jointly organised a session on "Motivating traders to become manufacturers under Atmanirbhar Bharat" at VIA Auditorium as well as on virtual platform. Suresh Rathi, President VIA, in his inaugural address briefed about VIA and said this session is beneficial for traders' second generation as well as for startups, who want to become manufacturers. Globally as the technology is changing very fast and the young generation is adopting this technology and technology user friendly. Ashwin Mehadia, President NVCC, said there is a good opportunity for traders, who want to become manufacturers. "We should come forward and become entrepreneurs.
The Modi Government has also come up with various opportunities for MSMEs and industries and there are many schemes," he added. CA Girish Deodhar said Nagpur has been an important center of trade and commerce. He encouraged the participants to set up manufacturing unit. "Initially aspirant will face some difficulties in setting up any manufacturing unit one should not give up," he said. He also explained about swot Analysis by utilizing his strengths, converting his failures, weaknesses, threats into opportunities and cleared the doubts of traders. He spoke about MSME and revised MSME classification w.e.f. 01.07.2020. The turnover with respect to exports will not be counted in the limits of turnover for any category of MSME units, whether micro, small or medium, benefits of registering manufacturers, additional incentives for strengthening.
He explained the quantum of incentives for new unit under PSI 2019 and spoke about interest subsidy, exemption from electricity duty, stamp duty exemption in power tariff subsidy. He advised the participants that sectors of feasible projects in the Vidarbha region are agri input and food processing, paper, plastics and packaging industry, textile and cotton processing industry, chemical and pharma industry, IT, etc. Second speaker, Joint Director of Industries, Nagpur Ashok Dharmadhikari said entrepreneurship development is the mandate of DIC. "MSMEs generate huge employment and the Government is also encouraging aspirants / startups and also giving subsidies from time to time to manufacturing units for long term sustainability of industry," he said. Anita Rao, Joint Secretary – VIA, made an opening remark, conducted the proceedings and also introduced the guest speakers. Ramavatar Totla, Secretary of NVCC summed up the session and said interested traders should take advantage of the session. He then proposed a formal vote of thanks. Mahesh Kukdeja and others were also present.