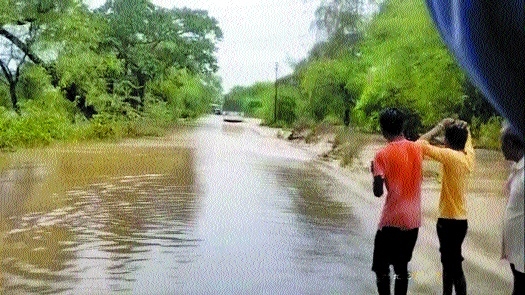 People helplessly watching the ST bus heading towards bridge submerged under flood water.
Umarkhed Correspondent :
Driver paid no heed to villagers who advised him not to cross the nullah
A State Transport bus was swept away in a flooded nullah in Yavatmal district and four persons, including the driver and conductor, drowned in the flood water even as people on both sides of the nullah watched helplessly. Fortunately, local people and rescue team managed to rescue two passengers. As per details, the MSRTC's Nanded-Nagpur bus (MH-14/BT-5018) from Nagpur depot left Nanded at 6 am on Tuesday. It was raining heavily at the time.
The bus had ten passengers besides the driver Suresh Rangappa Surewar (53) of Nagpur and the conductor Bhimrao Laxman Nagarikar (56) of Nagpur. Total six passengers got off at Umarkhed's bus stop in Yavatmal district and the bus then left for Pusad with remaining four passengers. Around 7.45 am, when the bus reached Dahagaon, 2 kms from Umarkhed, there were villagers near the bridge on a nullah that had got inundated. Looking at the bus driver's willingness to go ahead with the journey, they told him that water of the nullah was flowing over the bridge and advised him to wait till water recedes. However, the driver remained adamant and he took the bus on the bridge and within a matter of seconds, the bus tumbled off the bridge into the nullah. It then got stuck to a huge tree.
The villagers standing on both sides of the bridge ran to help. On being informed, Umarkhed's Tehsildar Anand Deulgaokar and Police Station Officer Amol Malve rushed to the spot and rescue team was also called in. With the help of the villagers, passengers Subramaniam Suryabhan Tokla, a resident of Digras, and Sharad Namdeo Fulmali of Karol were safely taken out of the water. Later, bodies of four persons including passenger Sheikh Salim alias Babu Sheikh Ibrahim (50), a resident of Hyderabad, passenger Indal Ramprasad Mahindra (35) of Karol in Pusad taluka, the driver Suresh Surewar and conductor Bhimrao Nagarikar were fished out. It may be mentioned here that the district administration had already sounded alert in wake of the heavy rains and overflowing water bodies and cautioned people against crossing bridges or roads that have water flowing over them.