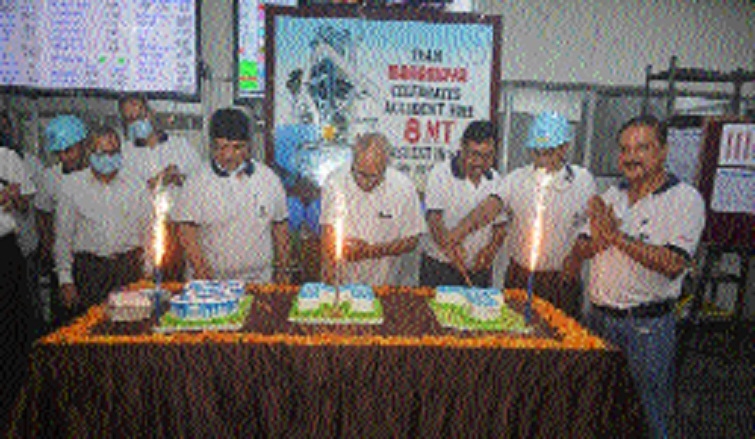 BSP executives and employees cutting cake to celebrate the occasion.
Staff Reporter :
BHILAI,
An air of celebration prevailed in the control room of largest blast furnace – BF 8, named Mahamaya of SAIL-Bhilai Steel Plant as the ceremonial cake was cut to mark BF-8 crossing the milestone of 8 Million Tonnes (MT) cumulative hot metal production since the first tapping of hot metal from the furnace took place on February 3, 2018. Members of the Blast Furnace Dept collective of the Plant and Team members of BF 8 had gathered in BF 8 on Tuesday to celebrate crossing the 8 MT cumulative production milestone. The 8 MT milestone was crossed by BF 8 during C Shift on September 26, 2021. By crossing the 8 MT milestone in 1333 days, Bhilai's BF 8 has become the fastest among furnaces of similar capacity in SAIL to do so.
Rourkela Steel Plant's furnace of similar capacity took 5.5 months more than of BF-8, and IISCO Steel Plant's furnace of similar capacity took 9.5 months to cross 8 MT milestone in cumulative production. Addressing the gathering in BF 8 Conference Hall, Director I/c Bhilai Steel Plant, Anirban Dasgupta congratulated the members of Mahamaya Team and all supporting shops and departments for the milestone achievement. He urged the BF collective to benchmark their performances with that of some private steel plants.
A ceremonial cake was cut in BF 8 control room in presence of V S Parashar, Ex-Chief Superintendent, Blast Furnaces, Dr. S K Issar, ED (M and HS), Rakesh, ED (Materials Mgt), Anjani Kumar, ED (Works), A K Panda, CGM I/c (F and A), S N Abidi, CGM I/c Services, Arvind Kumar, CGM I/c M and U, Tapas Dasgupta, CGM (Blast Furnaces), R R Nagare, ex-CGM, CGMs and other senior officers from various departments to celebrate the occasion. It is worth mentioning that earlier, BF 8 had earlier become the fastest in SAIL to have crossed the previous cumulative production milestones. Proceeding of the programme was conducted by Anuradha Saha, Personnel Officer, Blast Furnaces while Vote of thanks was proposed by Vikas Nashine, DSO, Blast Furnaces.