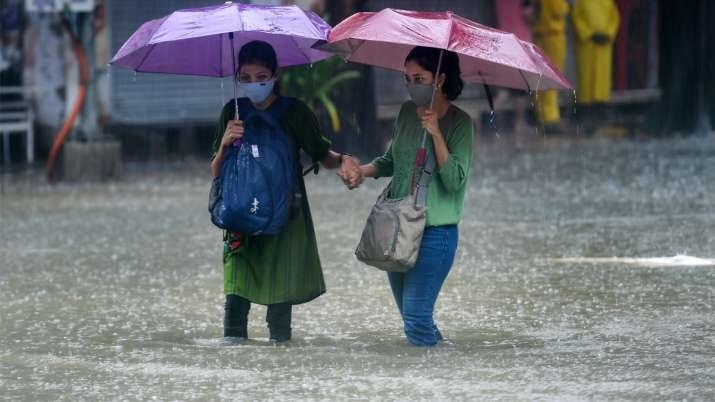 By Kaushik Bhattacharya :
In last 12 years, city received more than 1,000 mm annual rainfall on 10 occasions
Withdrawal on monsoon is likely to take place after October 7-8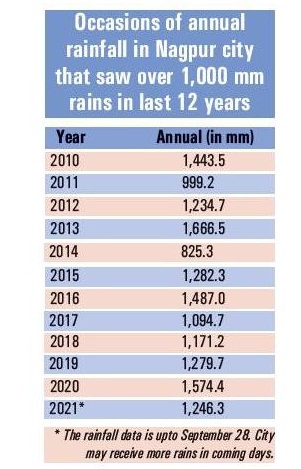 Though the climate change has reduced the annual rainfall in Vidarbha in last 100 years, the total annual rainfall in Nagpur city has increased drastically in last one decade. In last 12 years, on ten occasions, Nagpur city has received more than 1,000 mm rainfall annually which was comparatively less in previous decades. However, from 2015, city is witnessing over 1,000 mm annual rainfall every year. In 2021, the monsoon is yet to over, and till date city recorded 1246.3 mm so far. "Indian Meteorological Department (IMD) is maintaining the rainfall data of last 100 years of Vidarbha in which we found that the rainfall has reduced in all over Vidarbha and it is likely due to climate change," said M L Sahu, Deputy Director General and Scientist F, Regional Meteorological Department (RMC), Nagpur. Sahu said, "The climate change has also impacted the onset and withdrawal of monsoon in Vidarbha in last couple of years. Earlier, the onset was June 10 but the new date is June 15.
Similarly, this year we observing the good monsoon rains in the month of September. Earlier, September observe normal rains and till the end of this month the monsoon starts withdrawing." According to weather experts, the monsoon activities in Vidarbha has changed in recent years. This year, the monsoon took an early start and the withdrawal is likely to take place after October 7-8. As per the rainfall data provided by irrigation department, Nagpur city received 407.2 mm rainfall so far in the month of September which is 228.3% above normal. Similarly, city received 1,212 mm rainfall from June 10 to September 28. On Tuesday, city experienced gusty winds throughout the day and patchy rains in some places in the evening. According to a weather expert, the rain and winds in the city took place due to the cyclone 'Gulab' which is now crossed over from Vidarbha. The mild impact of the cyclone was observed in South and West Vidarbha. Another formation of low pressure area has observed by weather department which will also bring some rains in the region for next few days.