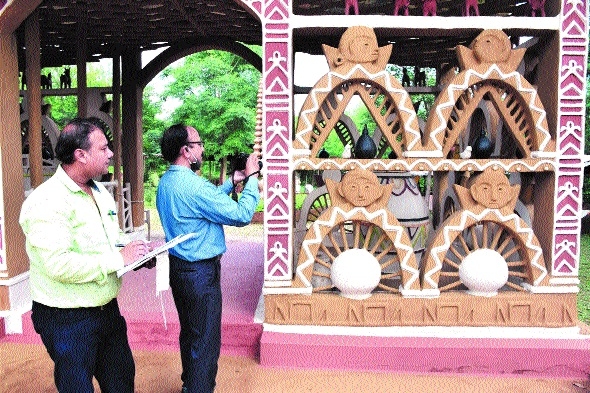 A man trying to capture unique structure designed by Gond clay artist.
Staff Reporter :
Indira Gandhi Rashtriya Manav Sangrahalaya (IGRMS) is observing 'Official language fortnight' from September 14 to 30 in which various competitions and programmes are being organised. To promote Hindi amongst employees, photography competition was organised. This competition was organised by Tapas Biswas, Photographic Officer. Biswas told participants present about the competition that Godari Pathera is a unique structure designed by Gond clay/mud artists of Dindori and Mandla districts of Madhya Pradesh using clay, bamboo and grass.
Profoundly designed, this entrance of the exhibition is an example of the architecture, aesthetic and artistic sense of tribals. In this, participants had to take photographs of 'Godari Pathera' exhibit from different angles and give a beautiful title to photograph taken. About 20 officers/staff participated in the Sangrahalaya in this competition and displayed creative qualities.