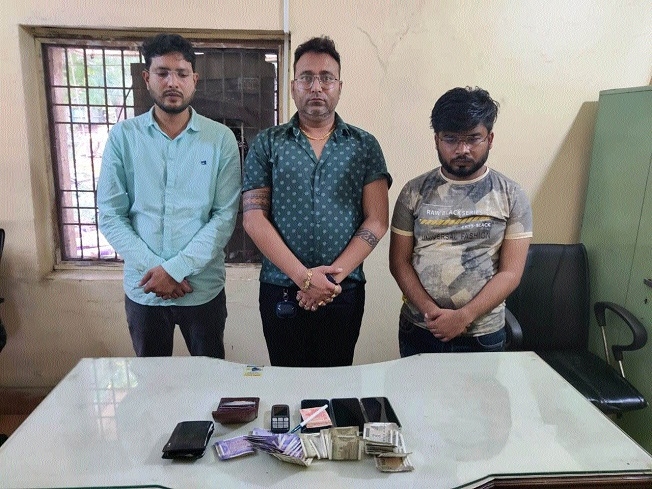 The accused in police custody.
Staff Reporter :
RAIPUR,
A Joint team of Cyber Cell and Pandri Police busted a cricket betting racket with the arrest three men operating the betting from a luxury car on Monday. Informers of Cyber Cell tipped-off that some people were taking bets on IPL matches in Pandri area. The people running the betting racket were operating from a moving luxury BMW car and taking bets through mobile phone. The Senior Police officials as ASP Abhishek Maheshwari and CSP Nasar Siddiqui directed Cyber Cell in-charge Girish Tiwari and Pandri Police Station House Officer Umashankar Rathore to catch the culprits. The team immediately set on the task and identified the aforementioned BMW car near Daldal-Seoni. As the police stopped BMW car, a second Swift car driving behind tried to reverse and fled the scene, but was intercepted. The people onboard BMW introduced themselves as one Vikas Agrawal and Rahul Agrawal whereas the person on Swift car was identified as Kishan Agrawal.
Police personnel found the men were running betting through mobile app on checking their mobile phones. In strict interrogation, the trio confessed to running online betting and collecting cash from people while on the move. Police seized four mobile handsets, cash Rs 11,500, BMW car CG/04/ND/5551 worth about Rs 55 lakhs, and swift car CG/13/AE/3010 worth Rs 7 lakh along with documentations of bets tuning to several lakhs from them. Police was trying to freeze Rs 6 crores in the ID of Kishan Agrawal and Rs 40 lakh in ID of Vikash Agrawal. Kishan Agrawal used international mobile number to make Kishan Agrawal (23), resident of Mowa Pandri, Vikas Agrawal, resident of Gudhiyari and Rahul Agrawal, resident of Bhatapara Baloda-Bazaar were booked under Section 4A of Gambling Act.