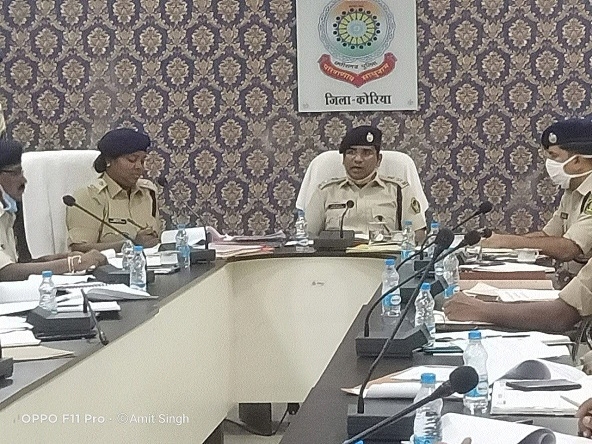 SP Santosh Kumar Singh addressing the meeting as ADSP Madhulika Singh and others look on.
Our Correspondent :
KORIYA,
Superintendent of Police (SP) Santosh Kumar Singh held a crime review meeting in the Police Headquarters Conference Hall here recently to discuss on the rising crime graph, pending challans and complaints of every Police station. While he appreciated the cops for better performance, he also lashed out on others for poor results. The SP instructed the cops to curb cyber crime and insisted on returning the money to the victims. He said that with the passage of time the methods of cyber crime are changing and hence Police must also change their tactics to deal with such frauds. The SP also reviewed the actions taken on narcotics in each police station. He said that it was the responsibility of Police Station House Officers (SHO) to ensure that all the CCTV cameras installed under their authority function properly and see that all the businessmen also install CCTV cameras in their shops so that crime can be prevented. He directed the SHOs for early Police verification for passports.
He asked to register case immediately in cognizable offenses and deal with the complaints immediately. Keeping in view the current corona epidemic the SP said that people have stopped using masks and sanitizers. As the third wave is likely to come he appealed people to take the pandemic seriously. He instructed all the SHOs to take necessary action against the people who do not wear masks. Senior officials including Additional Superintendent of Police (ASP) Madhulika Singh, Deputy Superintendent of Police (DSP) Kavita Thakur, City Superintendent of Police (CSP) Pratipal Singh, Sub Divisional Officer of Police (SDOP) Rakesh Kurre, SHOs of all the Police stations besides others were present in the meeting.