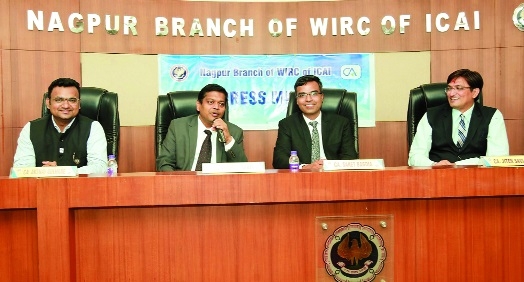 Business Bureau :
IN THE year 2020 when the coronavirus pandemic was raging across the country, the Western India Regional Council (WIRC) of The Institute of Chartered Accountants of India (ICAI) launched various initiatives continuously to impart knowledge and upgrade its members. In the process 99.61 crore learning hours were generated. This was disclosed by CA Manish Gadia, Chairman, WIRC of ICAI while speaking at a press conference organised at ICAI Bhavan on Thursday.
He further said that one of the initiatives launched was the WIRC Women Empowerment Programme for women CAs. This programme is for jobseeker. Women CAs can register their names and connect with CA firms for part time jobs. This programme has been launched for women CAs who have been out of touch with profession due to various reasons. Till date 768 women CAs have registered with the portal. Apart from this, the WIRC has launched Mentorship Programme for junior CAs. In this programme, senior CAs who have gained in-depth knowledge, rich experience or have done specialisation in a particular subject provide their valuable knowledge and guide the junior CAs, he said. Similarly, a CFO Forum has been launched for CA members in industry. Members meet every week and share information and data which is relevant to their profession. During the past six months 16 different papers have been published. This is beneficial for the members, CA Gadia said. Furthermore, an initiative for under graduate students has been launched called 'Train Earn Learn' (TEL) programme.
This programme was launched for skill enhancement on July 1 in Mumbai and more than 500 students have enrolled for training. The TEL is a two weeks course consisting of total 36 hours. "In Nagpur we have set a target to register 500 to 800 students," he said. On being asked whether there is growth in gross domestic product (GDP) of the country, Gadia said, "The country is definitely growing as it is reflected in GST collections for two consecutive months which is above Rs 1 lakh crore. Another important parameter to measure growth is the automotive sales figures. Most of the passenger vehicle manufacturers are having waiting period on car bookings. This indicates that people are spending on high end products and the economy is expanding." Replying to the issue of frequent glitches in GST portal, Gadia said that any new initiative like the introduction of GST given the huge magnitude of data and traffic will have issues. To make the GST portal fool-proof may take some time. But it is expected that the glitches on the portal could be resolved in third or fourth week of September.