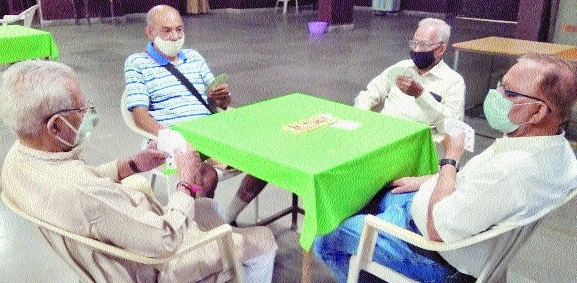 top Draw: Sudhir Watwe (R) and AK Das (2L) playing against runners-up pair of DK Dutta (R2) and SN Kulkarni.
Sports Reporter :
BRIDGE buffs had a patient and comfortable round of pairs event at their favourite bridge playing haunt, the Vidarbha Bridge Association's sports complex in Shankar Nagar. Competing from a field of 8 pairs from Vidarbha region in 28 deals Match Point contest played in Howell movement, Sudhir Watwe and AK Das combined well and succeeded in wresting top honours with 60.12 MP. Their performance was applauded by all bridge-mates. Just behind them were DK Dutta and SN Kulkarni who finished runners up with 57.14 MP.
Milind Hasabnis and LN Madne with a tally of 55.36 finished second runners up. Amit Rewatkar was the Tournament Director for this brain game. The club authorities have decided to host pairs event on every Sunday. Bridge enthusiasts are expected to turn up in more encouraging numbers in coming events, said Amit Rewatkar on behalf of the association.