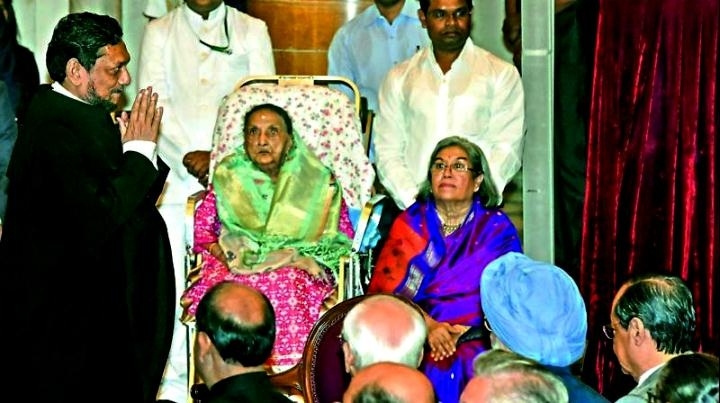 Justice Bobde's mother, Mukta Bobde made it a point to attend the swearing-in ceremony of the former Chief Justice of India, Sharad Bobde.
By Vijay Phanshikar :
When he stood up to take oath as Chief Justice of India, Justice Sharad Arvind Bobde finished the formality, turned and walked straight to where his mother Mukta Bobde sat on a wheelchair and bowed to her -- offering a classic example of a proud son becoming humble before the mother at the highest moment of his career until then. For Mukta tai as well, that was one of the proudest moments of her long, illustrious life. Her eyes moistened, and her face glowed with pride. Now that Mrs. Mukta Bobde is no more, having passed away at a ripe old age of 96, the Bobde family and its circle of friends will have to live by her memory. She had seen many proud moments in her long life. Long ago, she had felt very happy and proud when her husband, the legendary Advocate Arvind Bobde had taken oath as Maharashtra's Advocate General. She had also felt similarly proud when her elder son Advocate Vinod Bobde and his wife Advocate Ranjana Bobde kept scaling ever higher peaks in their careers as Supreme Court lawyers. For a woman in whose home such a fantastic galaxy of legal talent flourished, moments of glory were a usual experience, though. Her husband, Adv. Arvind Bobde was a legal luminary of rare merit.
As a young lawyer, he was carving out a special niche for himself -- with his scholarship, his oratorical skill, with his complete grasp of detail. Back home, he was always surrounded by people from diverse fields -- law, politics, social work, literature, bureaucracy. Mrs. Mukta Bobde managed that crowded place with aplomb. What mattered most to Mrs. Mukta Bobde through those years was how her sons grew up -- well-steeped in the family's tradition where excellence was habitual and a rising career trajectory was a matter of simple fact. She handled things in her own style, had a welcoming face and certain warmth that family and friends never missed. Both sons -- Vinod and Sharad -- were doing well for themselves, as lawyers as well as strapping young men.
Both had their own, strong individualities where compromise was not an easy option -- in the same manner of their illustrious father Adv. Arvind Bobde. The father and the sons plus the daughter-in-law discussed complicated legal issues at home. Serious, weighty discussions also took place in the house when people of eminence visited Mr. Arvind Bobde to sort out current complications in public affairs since Adv. Arvind Bobde also took good enough interest political affairs. On many occasions, tempers, too, flew high when discussions became rather assertive. Through all that, Mrs. Mukta Bobde stayed cool and composed, acting like a sheet-anchor, silently energising the family, offering a quiet stability. Her joy knew no bounds when Adv. Sharad Bobde was chosen to be High Court judge. From that moment on, what was happening was a continuous rise of Mrs. Mukta Bobde's second son to in creasing eminence as a judge of the High Court, then a Chief Justice of the High Court, and subsequently to the Supreme Court where he was destined to head India's judicial pyramid. The death of elder son Adv.
Vinod Bobde did come as a shock to the mother. Her own health, too, was failing invariably. And as Justice Sharad Bobde kept moving up, she felt happy, but somewhat lonesome nevertheless. As a dutiful son, Justice Bobde did not allow that feeling to disturb his mother. Even when he was at the Supreme Court -- first as a judge and then as Chief Justice -- he kept homing back to Nagpur to spend time with her every month, month after month. To that sprawling residence of the Bobde family, he returned longingly to be with the mother. In the past some time since Justice Bobde's retirement, he did not miss spending time with her. But old age and declining health claimed her finally at 96, in the post-midnight hours of September 27-28, 2021, plunging the family into grief. A rare soul, thus, went her way.