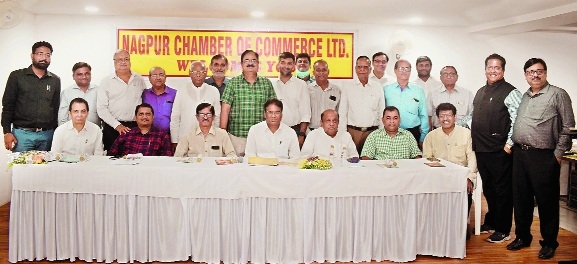 CA Kailash Jogani, President of NCCL and Tarun Nirban, Secretary alongwith the new team.
Business Bureau :
As anticipated, CA Kailash Jogani was elected as President of Nagpur Chamber of Commerce Limited (NCCL) at the 84th annual general meeting (AGM) conducted on Wednesday. The other office-bearers elected are Tarun Nirban, Secretary, Pradeep Jajoo, Senior Vice-President, Govind Pasari, Vice-President, Venugopal Agrawal, Treasurer, Vivek Murarka and Vasant Paliwal, joint secretaries. Vishnukumar Pacheriwala is Immediate Past President. The board of directors of Nagpur Chamber of Commerce Limited who were elected on Wednesday include Vijay Jaiswal, Nitin Bansal, Vipin Panpaliya, Purushottam Thakare, Shankarlal Khandelwal, Nathabhai Patel, Devakinandan Khandelwal, Sanjay Pande, Sushil Agrawal, Kamal Kalantri, Wasudev Zamnani, Ravindra Chandak, Laxmikant Agrawal, Nikunj Pacheriwala, Rishabhkumar Jejani, Prashant Jagyasi, Anand Jain, Jerin Varghese, Mitesh Kataria, Girish Lildiya, Yogesh Paliwal, Manoj Bagadi and Ramkrishna Gupta. Advocate Alok Daga was the Chief Election Officer and CA Sandip Jotwani was Election Officer. On the occasion, former presidents Bhagirath Murarka, Santosh Kumar Agrawala and Mahindra Kataria guided the new team.
Vishnukumar Pacheriwala felicitated chartered accountants Mukesh Agrawal and Nitesh Agrawal. Speaking on the occasion, Kailash Jogani thanked all the members of the Chamber and traders community for electing and reposing faith in his leadership. He said, "Traders are not directly linked to any political party. As the election of corporates is nearing, traders should elect genuine candidates." Jogani expressed concern over the condition of roads in the city and large number of encroachments. He also shed light on new technology, money protection and debt free trade. Traders should always do business with more transparency.
"Traders should not forget that they are first citizens of the country and then traders," he noted. Nagpur Chamber of Commerce Limited is always committed to solve the problems of traders. The newly-elected President underscored the need to simplify the tax structure in the country. "In the entire world, there are various stringent laws in the taxation. The taxes are also on the higher side. The tax slabs should be reduced so that more people will come forward to pay taxes. Therefore, it is the need of the hour that the tax structure should be made more simple and taxpayer-friendly," he suggested. The programme was conducted by Vivek Murarka and Yogesh Paliwal proposed the vote of thanks.