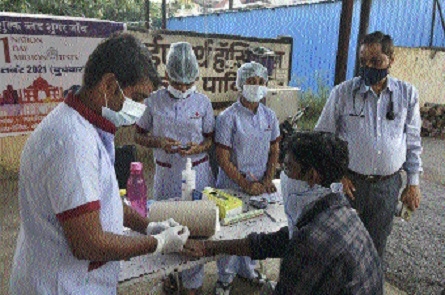 People undergoing free test at
Lifeworth Hospital.
Staff Reporter :
RAIPUR,
Chhattisgarh Research Society for the Study of Diabetes in India (CGRSSDI) with Chhattisgarh Diabetes Care and Research Institute, Raipur and Lifeworth Hospital organised free Blood, Sugar test at over 50 locations of city on Wednesday. Large numbers of people turned up for free blood sugar test on the occasion of World Heart Day on Wednesday. Dr Jawahar Agrawal, Senior Diabetes Consultant and president of CGRSSDI and Dr Arun Kumar Kedia, Co-ordinator of CGRSSDI informed that the aim is to perform one million tests on a day. Free tests were performed at Lifeworth Hospital, Gole chowk Pandit Deendayal Upadhyay Nagar, Pandri Market, Aamanaka, Kota, Anupam Garden, Police ground, Budha talab, Collectorate premises, Lalpur Chowk, Saddu, BTI ground Shankar Nagar, Oxygen zone, Ravi Bhawan, GE Road, Gogaon, Gondwara, Dharsiva.
Dr Agrawal informed that during second wave of COVID Diabetes patients were at higher risk as compared to normal person. Realising the urgent need for diagnosing, tracking and treating people with diabetes, Dr Bansi Sabu, President of RSSDI launched an initiative to reach out to 100 million people in the country in 100 days. Blood test campaign has been started with objective to test, track and treat diabetes patient. Dr Arun Kumar Kedia informed that it is the first event of its kind in India and it will be monitored by the Asia Book of Records, which will be considered as the record for maximum blood sugar test done in a single day. After the test, a coupon was given to the needy patients, with the help of which they will be able to get the test worth Rs 1,800 done at Lifeworth Hospital free of cost.