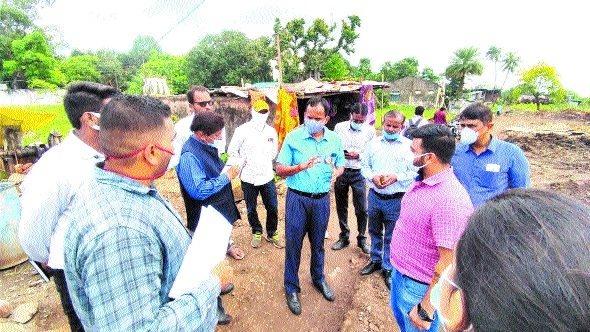 BMC Commissioner KVS Chaudhary taking stock of the STP construction works near Yadgar-e-Shahjahani park of the city on Wednesday.
Staff Reporter :
Commissioner of Bhopal Municipal Corporation (BMC), KVS Chaudhary inspected the sewage treatment plant, sewage lines and pump house on Wednesday. During the inspection, Commissioner Chaudhary directed to start the pumps at Kotra located pumping station with full capacity and also instructed to immediately begin the construction work of the sewage treatment plant at Yadgar-e-Shahjahani.
Additional Commissioner Pawan Singh and other BMC officials were also present during the inspection. BMC Commissioner Chaudhary also took stock of the construction works of the sewage treatment plants at Yadgar-e-Shahjahani park and the sewage pumping stations at Kotra Sultanabad. Along with this, Commissioner Chaudhary issued instructions to conduct filling up to a depth of 3 meters for the Sewage Treatment Plant (STP) construction works and begin the STP construction works soon. He also ordered the concerned firm "Ankita" to send letter according to the terms and conditions.