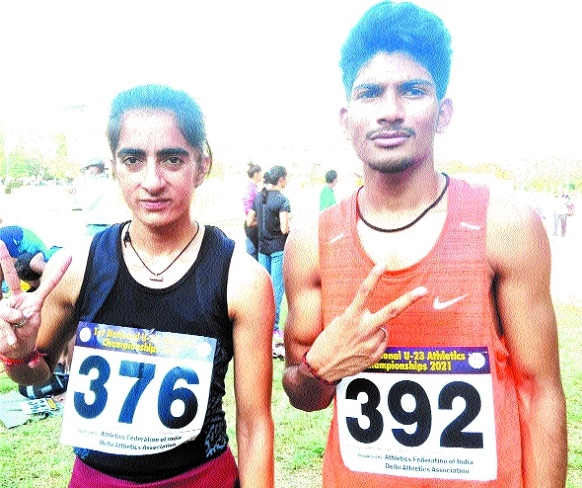 Abhishek Thakur (right) and KM Deeksha (left) who won a silver medal each at National U-23 Athletics Championship at Delhi.
Staff Reporter :
Players of MP State Athletics Academy, Abhishek Thakur and KM Deeksha, aced it at the National Under-23 Athletics Championship to bag one silver medal. The 3-day championship, organised at Jawaharlal Nehru Stadium, New Delhi, concluded on Wednesday. The athletes scaled this success by competing in the 800-meter race at the event. Notably, this is for the first time that the top-seeded players are participating in the Under-23 National Athletics Championship. In the final men's event, Somnath Chauhan, Haryana clinched the gold medal by completing the race within 1 minute, 53.75 seconds, while Abhishek Thakur from MP covered the distance within 1 minute, 53.86 seconds to bag the silver medal. Devednra Kumar from Haryana finished third by covering the path within 1 minute, 53.87 seconds, grabbing the bronze medal.
Similarly, in the women's final, Athlete Chanda from Delhi earned the gold by completing the run in 2 minutes, 3.40 seconds, while KM Deeksha from MP and Radha Chaudhary from Delhi named the silver and the bronze medals after them, by sprinting within 2 minutes, 4.62 seconds and 2 minutes, 6 seconds respectively. Sports and Youth Welfare Minister Yashodhara Raje Scindia extended heartfelt congratulations to the splendid athletes of the state for this acquisition.