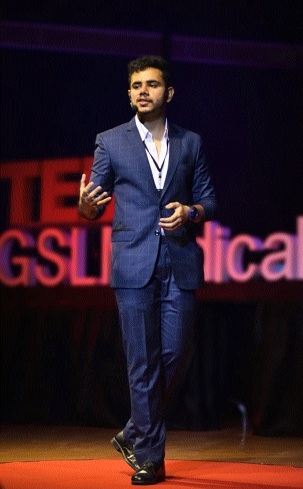 Yash Tiwari
By Dr Abhinav Mishra :
"Your talent determines what you can do. Your motivation determines how much you are willing to do. Your attitude determines how well you do it", said former American sportsman Lou Holtz. Meet Raipur's 19-year-old Yash Tiwari, who is extremely talented, supremely motivated and a guy with overwhelmingly positive attitude. Of late, Yash has earned a unique distinction of becoming the youngest author in India to pen down a fiction novel based on the COVID-19 pandemic. In fact, his novel is the world's first novel on this catastrophic pandemic. For the same, his name has been included in the prestigious India Book of Records and Asia Book of Records. Speaking to 'The Hitavada', this exuberant writer said, "My novel Pandemic 2020: Rife Of The Virus has been launched in the month of May. I would like to dedicate my book to all the Government Bodies, medical professionals, media people, healthcare workers, frontline workers and all other corona warriors, who had worked indefatigably during the covid-19 outbreak".
Further describing about his novel, Yash, who took just 30 days to complete the writing work, said enthusiastically, "It is a harrowing tale of privation, loss, and horrors that the unanticipated pandemic of COVID19 brought to our world. It is an inter-blended narration of stories from all around the world-An impoverished boy in China, an ambitious journalist in India, a helpless doctor in America, and a stranded traveler in Italy, and one common threat - The Coronavirus Pandemic." As they say, "Child is the father of man". Yash has been meritorious since his childhood. Yash wrote his first book 'A Celebration In Tribulation' at the tender age of 16, when he was in class 12th. It was the first-ever written book based on Creutzfeldt-Jakob Disease (CJD). In fact, CJD is an extremely rare degenerative brain disorder, in which the patient invariably dies, and for this fatal disease no effective treatment exists. Through his book, Yash gave a message to the society that one should happily lead every moment of his life. For his first book, this promising author had been chosen among the 'Top 100 Inspiring Authors of India' by The Indian Aawaz, awarded with 'Author of the Year' award by NE8x, and nominated for 'Best Debut Author' award by ICMDR.
Surprisingly, Yash had written his debut novel within a record time of just 22 days. Yash, who is studying Mass Communication from Kanpur, owes his success to his parents. This chap with multi-dimensional personality is also a motivation speaker, mental health advocate and an international youth mentor par excellence. He has delivered TED Talks on various subject-matters of social importance to audiences not just from India, but also from the US, Nigeria, Ghana, Canada, etc. This knowledgeable and well-informed boy had brought laurels to India by delivering a talk at the United Nations 75th Anniversary International Youth Day Celebration (2020) organised by the UN Volunteers. Adding other jewels in his crown, Yash has been awarded 'Global Young Leader Fellowship' and 'Karmaveer Chakra Award' by iCOGNO in association with United Nations.