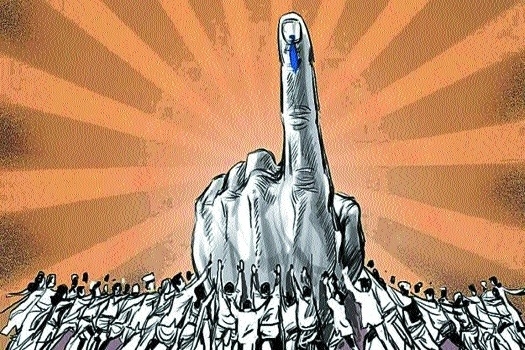 Staff Reporter :
The campaign for Zilla Parishad (ZP) and Panchayat Samiti (PS) bypolls in Nagpur district is reaching its peak before drawing to a close soon. So far, the campaign has seen political leaders firing salvos at each other. However, the campaign has also seen differences within Maha Vikas Aghadi (MVA) constituents -- Shiv Sena and Congress -- coming to the fore with the latest statements of Adv Ashish Jaiswal, Ramtek MLA. Adv Jaiswal, who was Shiv Sena MLA earlier, contested as Independent candidate in 2019 and got elected. Later on, he returned to Sena fold. During the campaign for ZP and PS bypolls, Adv Jaiswal inaugurated Shiv Sena office at Mansar. While addressing Shiv Sena workers there, he dubbed Shiv Sena-led ruling MVA's alliance partners Congress and Nationalist Congress Party (NCP) as 'near-dead'. "Congress and NCP were near-dead parties.
They must thank Shiv Sena chief Uddhav Thackeray that their political fortunes were revived when MVA was formed," he said. Adv Jaiswal did not stop at this. Without taking any names, he also flayed 'the leaders' who allegedly 'bought votes'. "We have neither bought votes nor secured votes at gun-point," he remarked. He was apparently peeved over MVA partners Congress and NCP fielding their candidates for ZP and PS bypolls at seats where Shiv Sena candidates too are in the fray. His comments evoked sharp reactions across the State. Following this, Adv Jaiswal issued video-statement on Wednesday reiterating his position. "I have informed Shiv Sena chief and senior leaders as to why I made the statements. I must mention that if my workers face injustice, I am going to stand by them. Shiv Sena is able to teach tough lesson to opponents," he said. He also mentioned about alleged injustice to villages with Shiv Sena support base, in distribution of funds for development. However, it is not the only incidence of political interest. A few days ago, Dr Ashish Deshmukh, former MLA and Congress leader, attended a meeting organised in support of a Bharatiya Janata Party (BJP) candidate.
Not long ago, he had written to Uddhav Thackeray, Chief Minister, demanding sacking of Sunil Kedar, senior Congress leader and Animal Husbandry Minister, from State Cabinet. Following this, a demand was raised in the meeting of Congress' district (rural) unit to expel Dr Deshmukh from the party. Kedar also had made some tough statement against 'leaders who betrayed trust'. Taking cognisance of Dr Ashish Deshmukh's presence at BJP meeting, Nana Patole, President of Maharashtra Pradesh Congress Committee, also told media that the party had asked its Vidarbha in-charge Chandrakant Handore to conduct an enquiry into the matter and submit a report. If reports of Dr Deshmukh meeting and campaigning for BJP candidate in the bypolls were found correct, the party might take action against him, Patole had said. Meanwhile, in the Congress-led alliance that is ruling in Nagpur ZP, Kedar is on hectic political campaigning across the district. So far, he has addressed several meetings in various villages. On Wednesday too, he campaigned in various villages of Parseoni and Hingna tehsils including Ghatrohna, Nandgaon, Khandala, Nayakund, Erangaon, Waddhamna, Nildoh, Digdoh, Isasani etc.
Throughout his campaign, however, he has focussed his criticism only on BJP over OBC reservation issue. Even during the heat of the political campaign, some have changed party. On Wednesday, Sudhir Karanjikar, District Vice-President of Vanchit Bahujan Aghadi, joined Republican Sena. According to Sagar Dabrase, State President of Republican Sena, Karanjikar is an OBC leader and member of Hingna PS. Karanjikar joined Republican Sena along with his supporters. Dabrase claimed that Republican Sena was in talks with Samajwadi Party and some factions of Republican Party of India, for the local body elections and Gram Panchayat elections in future. Dharmapal Vanjari, District President of Republican Sena; Rajkumar Tandekar, and Narendra Tirpude were present prominently in the programme in which Karanjikar joined the party. Nagpur ZP has total 58 seats of which 16 are to be filled through bypolls. Various Panchayat Samitis are going to bypolls to fill 31 seats that got vacated following the Supreme Court order on OBC reservation. The polling is scheduled on October 5, and the counting of votes will be held on October 6. After withdrawals, total 79 candidates are in the fray for 16 seats of ZP and 125 are contesting for 31 seats of various PS.