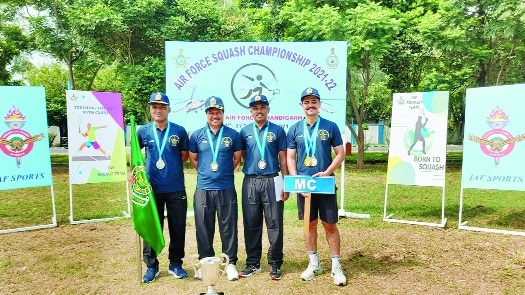 Principal Correspondent :
THE squash team of HQ Maintenance Command (HQMC), Nagpur finished second best in the recently held Air Force Squash Championship at Chandigarh. Eight teams including seven Commands of IAF and Air HQ took part in the Championships. HQ Maintenance Command, Nagpur won the runners up trophy in the team Championships. The team was led by Air Marshal M Baladitya AVSM VSM, SMSO, HQ MC.
The other team members were Gp Capt D Bharath, Wg Cdr MK Karthikeyan and LAC CS Rathore. In the open singles, defending champion LAC CS Rathore of HQ MC retained his first position and won the gold medal. The tournament was a reminiscence of the glorious past, wherein, the team leader Air Mshl M Baladitya himself was a five-time champion in the open singles category. Air Mshl S Choudhary AVSM VSM ADC AOC-in-C HQ MC congratulated the team and encouraged the players to train harder to bring the next year's winners trophy to Maintenance Command.