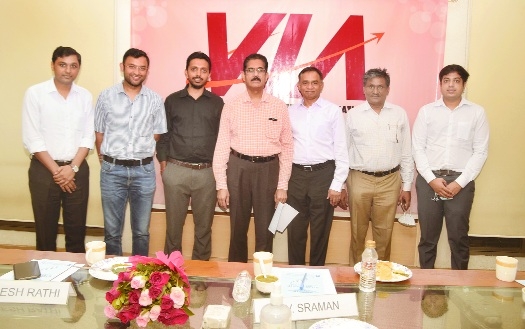 Business Bureau :
In an attempt to resolve various issues of the investors who acquired plots in SEZ MIHAN but could not start operations, Development Commissioner of Multimodal Hub at Nagpur Airport (MIHAN) Special Economic Zone (SEZ) Dr V Sraman recently said that he would take all possible steps to speed up industrial growth in the area. Dr V Sraman invited all the investors for one-to-one discussion and also assured that the department will send all investors applications to the concerned authorities for waiver of penalty and interest. The Vidarbha Industries Association (VIA) has recently called a meeting of investors the Development Commissioner at VIA. G S Bhandari, Assistant Section Officer, MIHAN SEZ and others were also present.
At the outset, VIA Exim Forum Chairman Pratik Tapadia welcomed Dr Sraman and G S Bhandari. VIA Secretary Gaurav Sarda appraised about their issues and interest shown by investors to restart their operations. VIA President Suresh Rathi requested the commissioner to take up the cases of those who have already taken plots in SEZ MIHAN but could not start their operations due to penalty / interest. He appealed to the investors to set up their units and start the operations immediately which will generate huge employment and revenue to exchequers. During the discussion, a lot of myths related to SEZ rules also got cleared with G S Bhandari. The investors appreciated and shared that if there are no delay charges then industrialists will happy to come and restart their operations in SEZ MIHAN. Replying to the queries of investors, G S Bhandari has assured to take up the issues with MADC.
He further informed the investors for any infrastructure development SEZ land is cheaper as compared to non SEZ land. SEZ unit is beneficial compared to DTA Company due to duty component leverage. He also explained about the SEZ procedure for submission of application, import, export benefit as well as DTA Sale by the SEZ Unit. He advised the bigger land holders may become a co-developer for their own plots by constructing office place / buildings and can provide some portion to other investors / units on lease basis. He spoke about the current industrial status of SEZ MIHAN having 52 active units comprising IT sector, defence, Pharma, MRO amongst many others. VIA played a pivotal role as a facilitator and tried to bridge the gap between investors and department. Mohit Sarda, Yogesh Shindekar, Vijay Waghmare, Shreyansh Agrawal, Saurabh Malpani, Gurudev Somani, Manish Gidwani, Manoj Gattani were present and discussed their concerns.