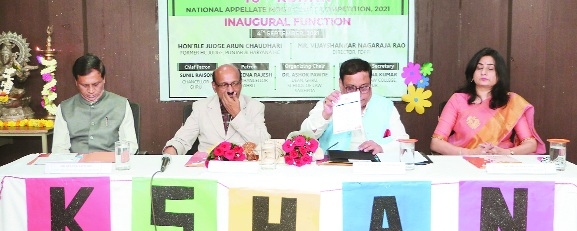 Business Bureau :
G H Raisoni Law College, Nagpur and GHRU School of Law, Saikheda in collaboration with FDPPI and AIR, conducted the 16th National Moot Court Competition 'KSHAN' on Saturday. Total 32 teams from all over the country participated in this competition. Due to the pandemic the competition was conducted virtually through an on-line mode. Arun Chaudhari, former Judge of Punjab and Haryana High Court, was the chief guest on the occasion along with Dr Ashok Pawade, Dean, GHRU School of Law, Dr Sona Kumar, Organising Secretary, G H Raisoni Law College, Nagpur, Vijay Nagaraja Rao, Director FDPPI, and Dr Deepak Taywade were the dignitaries present during the inaugural function.
"The journey of a lawyer while entering into the legal profession, things are very challenging, that every lawyer has to be very careful for his clients in the first place, said Chaudhari at the inauguration ceremony. Political agenda has also affected the purity of court and spoiled the court atmosphere somehow, he further stated in his speech. "Worst practice of a lawyer is to give false dates to the clients, this happens mostly when the lawyer is busy in some other cases. Lawyers should not do this and instead take all the information from the clients, be patient and find out a way to give success to your client. They should keep these basic things in consideration to become a good lawyer."
Chaudhari also gave examples and suggested to the students how to handle the cases. "Today students have the access and the curriculum is changed, also the students now get an opportunity to practice before the court and through such moot court competitions they get an exposure of the court," said Dr Ashok Pawade while addressing the students. He further advised the students to make their arguments simple in two parts when they start practicing in the court.